London 2012: Stylish start for 1908 Olympic Games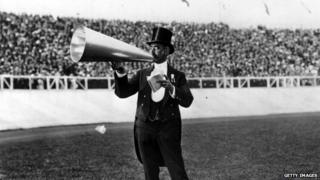 The 1908 Olympic Games in London opened exactly 104 years ago. At the helm was a charismatic announcer and his distinctive megaphone.
Dressed in top hat and tails and using a large metal megaphone, City Toastmaster William Knightsmith started the London Games in style.
Described by his descendents as "the voice that millions knew", he was the PA for the six month-long Fourth Olympiad.
Presiding over every event, most of which were held at the purpose-built White City Stadium in Shepherd's Bush, it was the pinnacle of his distinguished career.
His involvement in the Games has fascinated great grandson Patrick Stevenson, 66, who said: "I knew of the story as it was part of family folklore."
'Good voice'
And he has since had access to the megaphone - which forms part of Saracens rugby club chairman Nigel Wray's vast collection of British sporting memorabilia.
The 1908 Games were officially opened on 27 April by HRH King Edward VII and stretched out over six months.
When the Games closed on 31 October, Great Britain topped the medal table with 145 medals.
William Knightsmith lived in Shepherd's Bush, west London, and had worked as a toastmaster all over the UK when he was invited to play a central role in the Games.
Mr Stevenson said: "Because of his job he was known to royalty and aristocracy and they needed a man with a good voice. He also lived in Shepherd's Bush, so could walk to the stadium.
"He was a very charismatic man and one who was well known and respected.
"He must have been thrilled to have been asked to be the PA and it would have been the pinnacle of his career."
Tandem racing
Mr Knightsmith used the 2ft (60cm) long megaphone to report on events and announce the results.
He appears in many images from the 1908 Games and on a print which features champions and VIPs from the Games.
The print shows several sports no longer included in the Olympics including tandem racing, fancy diving, cycle polo, tug-of-war and the five-mile race - recreated in an event at the Olympic Park in March, when Tommy Davis, 26, from Loughborough, won in 25 minutes 11 seconds, beating Great Britain's Emil Voigt's 1908 time by 0.2 of a second.
Mr Stevenson said of the print: "It shows how important he was that he was on the picture. He wasn't only the PA, he was so much more than that."
Enthused by his family's Olympic connections, Mr Stevenson successfully applied to be a Gamesmaker for this summer's Olympics where he will be involved with transport at the Athletes' Village in Stratford, east London.
"I was thrilled to be selected and it will be wonderful to be part of something that my great grandfather was involved in," he said.
'Frontier-breaking technology'
The megaphone with its original wicker case, top hat and original print of 1908 Olympic champions were sold at auction in 2006 and raised £10,000.
Unable to compete with the successful bidder, Mr Stevenson left his name with the auctioneer and was put in touch with Mr Wray who also lives in north London.
Mr Stevenson said: "I went along to the auction but the bids went way above what I could afford so I left my name in case the buyer wanted to find out more about its heritage."
Mr Wray, who says he started collecting sporting memorabilia by accident 25 years ago, bought the items for his collection, now worth millions.
He said: "It struck me as a really interesting piece, given the Olympics were going to be held here in 2012.
"I thought wow, when you compare it to now they have this fantastic digital technology. The megaphone was frontier-breaking technology then.
"The fact it was 1908 and it was in London it was very important to me."
Mr Stevenson has since borrowed the items to take to talks about his great grandfather and recently took them along to the BBC's Antiques Roadshow.
"It was great, Fiona Bruce was dishing out orders with the megaphone," he said.
"It showed it was simple but effective."
Experts valued the megaphone at between £1,500 - £2,000 while the print was said to be worth between £400 - £500 although Mr Wray said he had been offered £30,000 for the items.
A Sporting History, a book detailing every item in Mr Wray's collection, is due out next month with all proceeds going to the Saracens Sport Foundation which works to inspire communities and change lives through sport.
He is also looking for a permanent home for the collection which he wants to stay together for future generations to enjoy.