Expat death in China: Who was Neil Heywood?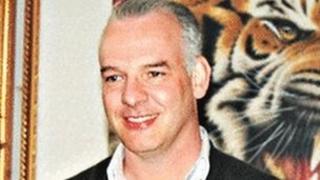 The wife of a disgraced Chinese politician has been given a suspended death sentence for murdering British businessman Neil Heywood. But who was Mr Heywood, and why did his death result in the worst scandal for the country's communist party in decades?
When Neil Heywood was found dead in a hotel room in the south-western city of Chongqing in November 2011, reports initially said the 41-year-old business consultant had died of alcohol poisoning and his body was cremated without a post-mortem examination.
But after friends raised doubts, saying he drank only occasionally, the UK government asked the Chinese authorities to reopen the investigation.
In April, the government said it was investigating Gu Kailai - the wife of sacked Communist Party official Bo Xilai - in connection with the case. Gu and Zhang Xiaojun, employed at Mr Bo's home, were charged with intentional homicide in July.
Gu was convicted at a one-day trial on 9 August in the eastern Chinese city of Hefei and was later given her sentence.
Friendship forged
Born in 1970, Mr Heywood enjoyed a privileged education at Harrow School and went on to study international relations at Warwick University.
According to the New York Times, friends described him as "charming but elusive", and "a maverick since his school days". They recalled him travelling across the US in a campervan and crossing the Atlantic on a yacht.
Mr Heywood had been a resident in China since the early 1990s where he learned fluent Mandarin in Beijing, met and married his Chinese wife Wang Lulu, and started a business career.
The father-of-two worked as a consultant to foreign businesses seeking investment in China.
He set up several companies, advised clients including Aston Martin, and is reported to have done work for Hakluyt & Co - a strategic information consultancy founded by former members of MI6.
John Russell, chief executive of London Taxi manufacturer Manganese Bronze, remembers Mr Heywood as a "very professional" operator.
"Neil did have an ability to work through contacts and build relationships," Mr Russell told the BBC.
"The way he handled his business with us was immaculate. He just went about his business in a thoroughly professional, very English, way."
Speculation that Mr Heywood was an undercover agent was dismissed by UK Foreign Secretary William Hague, who said he "was not an employee of the British government in any capacity".
Mr Heywood was "only an occasional contact" of the British embassy in Beijing, where he attended "some meetings in connection with his business", Mr Hague added.
British connection
It was while living in the north-eastern port city of Dalian in the mid-1990s that Mr Heywood met the local mayor, Bo Xilai and his wife Gu Kailai, a lawyer.
Gu Kailai had connections to a law firm in Dorset and worked in the US.
In 2000, Gu Kailai came to Britain so her son Guagua could go to public school. The younger Bo was later admitted to Balliol College, at Oxford University. While at Oxford Mr Heywood helped him arrange a ball and the pair were known to meet when My Heywood was back in Britain.
By 2007, Bo Xilai was appointed Communist Party chief of Chongqing, and he went on to become one of China's most popular politicians and a possible contender for the leadership later this year.
However, he was sacked in March and is under investigation for allegedly flouting Communist Party rules.
The exact nature of Mr Heywood's role and his relations with the Bo family have been the subject of much speculation inside and outside China. At the very least, there were close business contacts between the Bo family and Mr Heywood.
Mr Bo and Mr Heywood's relationship became strained by 2010, according to some reports.
In the same year, Mr Heywood failed to secure a UK passport for his wife through the consulate in China. The BBC understands that the UK would now allow his widow to enter the country if she wished.
Mr Heywood returned to the party chief's region of Chongqing in November 2011, and was later found dead.
'Fleeing China'
Journalist Tom Reed knew Mr Heywood over the last few years and had met him shortly before he died.
Writing in the Times, he said Mr Heywood had once been "worried" about a rift with Mr Bo.
"He even considered fleeing China with his family," wrote Mr Reed. But by the time the businessman met him for dinner in November, "most evidently, there was no sense of fear".
However, another unnamed friend told the Wall Street Journal Mr Heywood had passed documents relating to Mr Bo to a lawyer in Britain as an "insurance policy". No such files have surfaced and the newspaper's other sources knew nothing of the records.
Reuters news agency has reported the businessman had threatened to expose a plan by Gu Kailai to move money abroad, according to two sources with knowledge of the police investigation.
But a source close to the Bo family told BBC Beijing correspondent Martin Patience that allegations against the family were "preposterous" and that the claims were part of a smear campaign against the family.
The source said the family was "devastated" by the death of Mr Heywood, who had been a friend of Bo Xilai - but there had been no business dealings between the two.
Widow 'suffering'
Ann Heywood, Mr Heywood's 74-year-old mother, who lives in south London, said the news of his death had been a "total shock".
And his widow Wang Lulu, speaking outside her home in a gated community near the outskirts of Beijing, told the BBC she was sorry she could not speak about the death, but was too sad.
The BBC's Michael Bristow said a close friend described how Wang Lulu was suffering, especially because she had to bring up her son and daughter.
The children have UK passports and attend an international school in Beijing. Their mother was last seen in Britain at her husband's memorial service at St Mary's Church, in Battersea, in December.
For now she remains with her children living at the family home in a private, tree-lined compound on the outskirts of Beijing.
Meanwhile, the political situation in China is in disarray and it remains to be seen exactly how Mr Heywood was involved with such a powerful family.