Unite union to discuss fuel tanker deal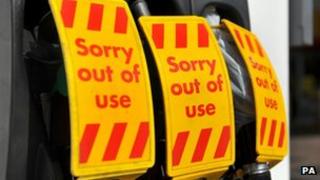 The Unite union will meet next week to discuss a proposed deal aimed at ending the fuel tanker drivers' dispute.
The deal was tabled on Friday following six days of talks between the union and officials from six distribution firms.
The threat of a strike over safety, pay and working conditions resulted in panic buying at petrol stations.
About 60 union representatives from across the country will discuss the deal and have until Friday to accept the proposals or announce a strike.
Both sides have agreed that the details of the deal will remain confidential.
Outside the headquarters of the conciliation service Acas, the assistant general secretary of Unite, Diana Holland, said the talks had been "intense and complex".
She said: "We have done as much as we can and we have a document we now can discuss. But we will keep the process confidential until the people who matter make the decision."
'Resolve dispute'
BBC transport correspondent Richard Westcott described it as "big step forward" but added that the big sticking point appeared to be pay.
He said it was unlikely the talks among union delegates would begin on Monday, because no venue had yet been chosen to host the discussions.
They will either accept, reject or demand changes to the deal, and have until Friday to do so.
Unite represents 2,062 tanker drivers, covering 90% of supplies to forecourts, and is calling for minimum standards of pay, hours, holiday and redundancy.
Alan Davison, representing the tanker companies, said: "We are now in a position where we have a final set of proposals and hopefully we can resolve this dispute."
Peter Harwood, of Acas, said he was pleased with the result following two weeks of talks.
He said: "Acas has been shuttling between the parties and the process has been a long and challenging one. But we are pleased to announce that a set of proposals have been reached."
Under rules governing strikes, the union has to give seven days' notice of any industrial action.
Earlier on Friday, the union had been given an extension to its deadline for declaring strikes so that talks could continue.
Under employment law, the union should have made a decision by late afternoon on whether to call its members out on strike after they voted last month for industrial action.
The Department for Energy and Climate Change said it welcomed the possible deal.
A spokesman said: "We hope that this will lead to the threat of strike action being lifted. The government continues to believe that any strike action is wrong and unnecessary."
There were chaotic scenes at garages across the UK earlier this month as people queued for petrol after the government advised motorists to top up their tanks.
The government faced criticism that its advice had caused panic buying.
Army drivers have been trained to deliver fuel to petrol stations in case of a possible strike.