London 2012: Olympic torch relay sponsor's vehicles unveiled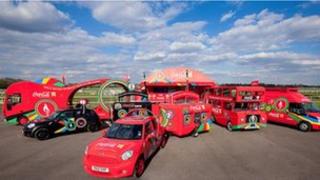 The Olympic torch relay convoy will include a fleet of branded vehicles from the event's presenting sponsors.
Coca-Cola, Samsung and Lloyds will all have modified vehicles travelling ahead of the flame as it tours around the UK from Land's End to Stratford.
They will play music and dish out memorabilia and information to crowds lining the relay route.
The announcement came as doctors warned Olympic sponsorship by fast food companies "sent the wrong message".
The criticism was part of a campaign to tackle rising levels of obesity that is represented by almost every doctor in the UK.
"They clearly wouldn't be spending the money if they didn't benefit from being associated with successful athletes," said a spokesman for the campaign, Prof Terence Stephenson.
Unite the nation?
Defending its contribution Coca-Cola said: "We expect more than 75% of the drinks that we sell at the Olympics and Paralympics will be water, juice or sugar-free."
Coca-Cola hopes its so-called Beat Fleet will encourage crowds to "move to the beat" blasted out by MCs playing music such as the company's official Olympic anthem, Anywhere in the World, performed by producer Mark Ronson and singer Katy B.
James Williams, Coca-Cola's Olympic torch relay director, said the sustainable vehicles would showcase the latest in "green" technology. The fleet uses a combination of intelligent assistance systems to enhance efficiency and reduce energy consumption and emissions.
"Not only will they help to galvanise nationwide support for all the Future Flames honoured with carrying the Olympic torch, the 'Beat Fleet' will also help to unite the nation allowing everybody to take part in the UK's biggest party," said Mr Williams.