Property stolen from Parliament revealed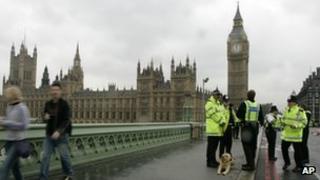 Four beer barrels and a bottle of champagne are among 23 items to have been stolen from Parliament since June.
A floral display, a medal and computers are among the other property to have been taken, says the House of Commons Commission.
The haul was disclosed after a Parliamentary question by MP Keith Vaz, a theft victim himself last May.
It came as the House of Commons appointed Lawrence Ward as their new security chief.
Mr Ward's appointment to Serjeant at Arms - a role which requires him to dress in a ceremonial uniform and carry a sword - was announced by Speaker John Bercow, as MPs returned from the Easter recess.
Tough security measures are in place around the Palace of Westminster.
Armed police guard the entrances and patrol the site, which is routinely checked by sniffer dogs.
But among the other goods reported stolen to police since June were 10 laptops, two mobile phones, a bank card, a bicycle repair kit and pair of spectacles.
Mr Vaz was revealed to have had a laptop and iPad stolen from his Westminster office last year.
He said at the time: "A great deal of effort is taken to protect the outside of the building, but we need a more robust approach to security inside the building".
In response to the new figures, he said: "I was shocked and very disappointed to hear that, despite being one of the most secure buildings in Britain, in the first three months of 2012 we have already reached 50% of the thefts of last year."
Foam pie
Mr Ward has been acting Deputy Serjeant at Arms since November 2011, following the departure of Jill Pay.
She announced her retirement in October, after security arrangements at the Palace of Westminster were criticised.
Her role was scrutinised last July, when News Corporation chairman Rupert Murdoch was attacked with a foam pie during his high-profile appearance before a select committee investigating phone hacking.
But Mrs Pay also attracted criticism from MPs for allowing police to search Tory front bencher Damian Green's office without a warrant, when the Conservatives were in opposition.
In a letter to Mr Bercow, she described her career in the Commons, which began in 1994, as "the most exciting, challenging and rewarding period" of her career.