Timeline: Probe into Briton Neil Heywood's death in China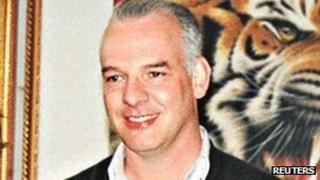 The death of British businessman Neil Heywood is being investigated by the Chinese authorities. The wife of demoted Communist Party official Bo Xilai has been held on suspicion of Mr Heywood's murder.
This is a synopsis of the events following the discovery of the 41-year-old's body in a hotel room in in the central city of Chongqing in November.
15 November 2011
Neil Heywood's body is found in a Chongqing hotel room.
16 November 2011
British consular officials in Chongqing are notified of Mr Heywood's death by fax from the Public Security Bureau of the Chongqing municipality of China. Chinese officials say the cause of his death was "overconsumption of alcohol".
Meanwhile UK Foreign Office Minister Jeremy Browne meets Bo Xilai in China. Foreign Office later says ministers are not routinely told about the death of British nationals or other consular cases as they are so numerous.
18 November 2011
Mr Heywood's family inform British consular staff of their decision to have his body cremated, after which a Foreign Office official attended the cremation.
18 January 2012
British officials are first made aware, according to Foreign Secretary William Hague, of rumours within the expatriate community in China that there may have been suspicious circumstances surrounding Mr Heywood's death.
6 February 2012
Allegations about Mr Heywood's death are made by ex-Chongqing vice-mayor and chief of police Wang Lijun during a visit to the US Consulate in Chengdu, according to ministerial statement from Foreign Office on 17 April.
7 February 2012
Foreign Office officials inform Foreign Secretary William Hague of the case. He says he instructed them to make urgent representations to the Chinese authorities and to seek an investigation into Mr Heywood's death.
15 February 2012
After contacting the family, officials from British Embassy in Beijing meet officials from the Consular Department of the Chinese Ministry of Foreign Affairs informing them of suspicion that Mr Heywood has been murdered. A formal request is made for Chinese authorities to investigate.
21 February 2012
British ambassador to China makes another request for Chinese authorities to investigate and repeats the request a week later, according to the UK Foreign Office.
22 March 2012
The Foreign Office's consular director raises the case with a senior Chinese consular official in London - after there had been no formal Chinese response, the FO says.
10 Apr 2012
China announces Bo Xilai has been stripped of his Communist Party posts and his wife, Gu Kailai, and an orderly are being investigated in connection with Mr Heywood's death.
15 April 2012
There are unconfirmed rumours Mr Heywood was poisoned. After Boxun, a website based in the United States, claims he was poisoned with potassium cyanide, the rumour is repeated by people using Chinese micro-blogging sites and is picked up by Western newspapers.
17 April 2012
Prime Minister David Cameron offers "any necessary assistance" to help China investigate the death when he raises the case with Chinese politburo member Li Changchun at a meeting in Downing Street.
Foreign Secretary William Hague provides written ministerial statement about Britain's response to the case.