UK soldier dies after Afghanistan bomb blast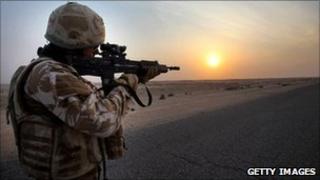 A British soldier has died from his injuries following a bomb blast in Helmand Province, southern Afghanistan, the Ministry of Defence has said.
The soldier, from the 33 Engineer Regiment, was seriously wounded in the bomb blast on 11 April, the MoD said.
He was flown back to the UK where he died of his wounds on Wednesday at Queen Elizabeth Hospital, Birmingham.
The soldier has not yet been named, but his next of kin have been informed, the MoD said.
The number of soldiers killed in operations in Afghanistan since 2001 stands at 409.
Major Ian Lawrence, spokesman for Task Force Helmand, said: "The thoughts and sincere condolences of the entire Task Force are with his family and friends."