Newspaper review: Focus on Abu Qatada deportation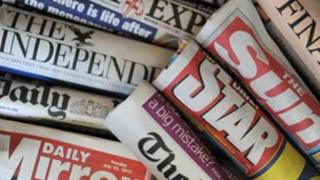 The papers give much coverage to the row over the deadline for radical cleric Abu Qatada to apply to appeal his deportation from the UK to Jordan.
The Home Office has said Abu Qatada lodged the application too late, but the European Court of Human Rights and his lawyers disagree.
The Independent says the Home Office has committed a "farcical blunder" that allows the cleric to stay in Britain.
The Daily Express describes the situation as "chaos".
The Times asks on its front page if Home Secretary Theresa May asks on its front page if Home Secretary Theresa May - who on Tuesday announced the deportation would go ahead - knows "what day it is?"
The Daily Mirror accuses Mrs May of getting her dates in a "muddle".
The Daily Telegraph says she should have asked herself why Abu Qatada was smiling when he was arrested.
Was it, the paper asks, because his solicitor was confident that she had time to appeal and "derail" the deportation attempt.
There is speculation about who might replace outgoing Bank of England governor Sir Mervyn King.
The Financial Times says Conservative MPs are urging the chancellor to look for candidates beyond the bank because it has become prone to "groupthink".
The Times's business editor says the best person for the job is the bank's current deputy governor Paul Tucker.
Of reports a Canadian has been offered the job, the Guardian's Simon Goodley says: "Unthinkable. Well, almost".
A call by the employment minister, Chris Grayling, for businesses to "hire a hoodie" also receives wide coverage.
As the Independent reports, Mr Grayling said "surly young men" could be turned into excited and motivated employees.
The Telegraph says the comments mirror David Cameron's "hug a hoodie" speech in 2006.
A Sun cartoon shows a woman interviewing a tracksuited man saying: "Excellent! I see you have experience hanging around smoking and stuff."