Strike by BBC staff could disrupt Jubilee coverage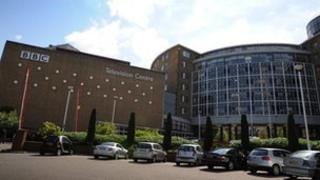 BBC unions are to ballot for strike action that could hit coverage of the Queen's Diamond Jubilee celebrations.
The joint action is by the National Union of Journalists (NUJ) and BECTU, who have warned a pay strike could take place at the beginning of June.
With the ballot result due on 21 May, the unions would have the seven days they need to call a strike, in time for the bank holiday weekend on 2-5 June.
The BBC say their stance on pay will not change, regardless of any strike.
Gerry Morrissey, BECTU's general secretary, said the ballot decision followed the imposition of a 1% pay rise for staff, with a minimum increase of £400.
He said the corporation had increased salaries before pay negotiations had concluded.
"Warning of action over the Queen's Diamond Jubilee weekend is extremely regrettable, but this offer is derisory," he said.
"It adds injury to the insulting pay offer. The BBC had actually asked us to consult members and had scheduled a meeting on pay with us for next week.
"We had informed them that a direct offer of 1% would be seen as a hostile act by the joint unions. We now have no option but to call a strike ballot at the earliest opportunity," he added.
BBC staff were told of the pay increase by email on 18 April.
In January, the unions asked for a pay increase of 2% above inflation, with a minimum increase of £1,000.
They justified the claim by saying that staff salaries had fallen by 8% behind inflation since 2007.
Michelle Stanistreet, general secretary of the National Union of Journalists, said the strike action was "not just about pay".
She said the corporation's management team had failed to negotiate on a range of other issues, including a redeployment scheme for staff, that was agreed in autumn.
"This has left us with members needlessly facing compulsory redundancy. There are jobs these members could go to, but the BBC is failing to fulfil its part of the bargain."
A spokesman for the BBC said it had implemented the pay rise earlier than normal, as a way of recognising the hard work that is going on across the BBC to save money.
"We are very disappointed that the unions have decided to ballot their members about taking industrial action.," he said.
"The economic climate remains tough for everyone and this action will not change our circumstances."