Newspaper review: Uncomfortable reading for Theresa May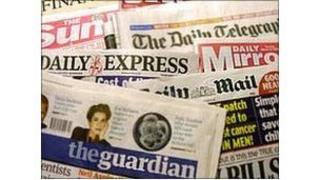 The front pages will make uncomfortable reading for Home Secretary Theresa May.
The Daily Telegraph believes the Muslim cleric, Abu Qatada, could be freed within days because of his appeal to the European Court of Human Rights.
The Times says the Home Office is in disarray after a judge indicated he would consider freeing Abu Qatada on bail if his deportation was not soon.
Many of the papers carry the same picture of Mrs May leaving the Commons with a grimace on her face on Thursday.
Flight out
The Financial Times says she is under pressure to say if officials warned her Abu Qatada might be able to exploit ambiguity around his appeal deadline.
The Daily Express makes a plea on its front page . "End this Qatada farce," it declares. "Just kick him out of our country now."
The Sun agrees , urging the government to take a leaf out of France's book.
"When it suits them, they ignore Strasbourg and put terror suspects on the next flight out," it says.
Tea party
The Financial Times describes Tory MPs' opposition to an elected House of Lords as the "biggest Conservative rebellion since the election".
The FT says the revolt will test the coalition after David Cameron promised Deputy Prime Minister Nick Clegg that he would deliver the reforms.
Mr Cameron has been told it will make a revolt over the Maastricht Treaty look like a tea party, the Daily Mail says .
The Mail says details were quickly relayed to Mr Cameron.
Protest slogan
There are more calls for the Formula One Grand Prix in Bahrain to be cancelled because of the crackdown on anti-government protesters.
The Daily Mirror says holding the race would be an "unforgivable error".
The Guardian thinks the Grand Prix has back-fired before it has even begun.
The paper says the slogan of protesters in the capital Manama is "don't race over our blood" - but the paper argues that is exactly what the Formula One teams propose to do.