Customs man 'helped drug barons trick judge'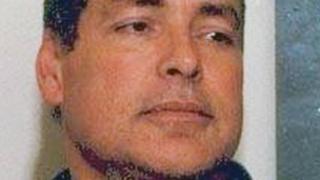 A customs officer helped two "famous" drug barons secure massive reductions in their jail terms based on bogus information, a court has heard.
John Haase and Paul Bennett tipped off police about 150 guns supposedly hidden around the UK between 1993 and 1995.
Kingston Crown Court was told that Paul Cook, a senior customs officer, vouched for the information which was provided.
Mr Cook, 60, denies conspiracy to pervert the course of justice and a charge of misconduct in public office.
The court heard Mr Cook was an informant handler for Liverpool drug smuggler Haase and his nephew, Bennett.
Gibson Grenfell, QC, prosecuting, said the pair were "major criminals" who were waiting to be sentenced for a large-scale scheme to import heroin.
He said Haase and Bennett, while in custody awaiting trial, pretended to provide information about guns in the Liverpool, Manchester and North Wales areas.
But in fact they had persuaded accomplices on the outside to buy guns and then hide them in pre-arranged places so Haase and Bennett could curry favour with the authorities. One gun left near the ferry terminal at Holyhead in north Wales was designed to incriminate the IRA.
He said some detectives started to doubt the authenticity of the information.
Mr Grenfell said Mr Cook told the judge at their 1995 trial for drug smuggling the pair were "genuine and valuable informants" and he massively reduced the 18-year sentences both were given.
He said Mr Cook was instrumental in this "gross deception of the judge" by placing before him a document "painting a very favourable picture of the men, which he knew didn't tell the truth".
Mr Grenfell said Mr Cook was not motivated by financial gain but simply hoped to obtain useful information about crime, albeit unlawfully.
"He knew the thing had been set up by Haase and Bennett and had known it for some time," claimed Mr Grenfell.
He said Mr Cook did obtain some genuine information about the drug trade through working with the criminals but it was of little worth.
Mr Grenfell said: "He may have thought he was acting in a noble cause and that it didn't matter if he helped the two criminals in an unlawful way if he got a lot of information out of them, but what he did was act dishonestly and against the law."
The trial, which is due to last 12 weeks, continues.