Government investigating MI5 Libyan betrayal spy claim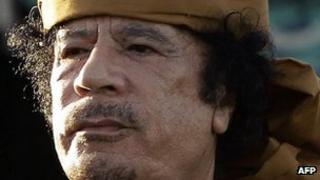 The government has said it will "take seriously" allegations about security services' work with Col Gaddafi's Libya, after fresh allegations emerged.
The Mail on Sunday claims MI5 betrayed dissidents in London to Libyan spies.
And The Sunday Telegraph says MI6 and Libyan agents set up a radical mosque in an undisclosed city in Western Europe - to lure al-Qaeda terrorists.
Both papers say the claims come from documents which became available in Libya after Gaddafi's fall.
The Mail on Sunday claims Libyan spies working on UK soil were supplied with intelligence, a luxury safe house in Knightsbridge, west London, and secure mobile phones.
The paper says MI5 "betrayed the confidentiality that refugees are promised when they apply for asylum", citing documents "unearthed from Libyan spymasters' archives" after the Gaddafi regime was toppled last year.
A Home Office spokeswoman said the department did not comment on operational matters because of safety issues.
Serious claims
But she added that parliament's Intelligence and Security Committee was already looking into the government's relationship with Libya "and will take account of any allegations raised by this report."
"We do not know the full details of this case, but we take such claims seriously," she added.
Senior Tory MP David Davis commented: "What was... going on was a very heavy level of co-operation in 2006, targeted on people who had been given asylum as opponents of the Libyan state.
"That's what it tells us. This was not one single operation in aftermath of a rapprochement with Gaddafi."
According to the Sunday Telegraph, documents sent by MI6 to Libyan intelligence chief Moussa Koussa reveal a double agent was recruited to infiltrate an al-Qaeda terror cell.
The agent, reported as bearing the codename Joseph, is claimed to have been closely connected to a senior al-Qaeda commander in Iraq.
A spokeswoman for the Foreign Office, which includes MI6, said the department does not comment on intelligence matters.
On 18 April it was revealed that a Libyan military commander, Abdel Hakim Belhadj, was taking legal action against former foreign secretary Jack Straw for allegedly agreeing to his rendition to Gaddafi's Libya via British territory in 2004.
In an interview with Radio 4 last year, Mr Straw said the Labour government had been opposed to unlawful rendition.
"We were opposed to any use of torture or similar methods. Not only did we not agree with it, we were not complicit in it and nor did we turn a blind eye to it."