Postal workers back compulsory dog microchip plan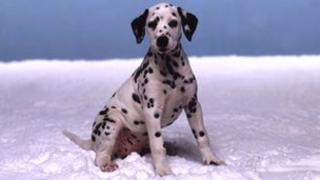 A union representing postal workers has welcomed plans to introduce compulsory microchipping of dogs in England - but says they were "well overdue".
The Communication Workers Union (CWU) said thousands had been injured while the government "dragged its feet".
Ministers are expected to say on Monday that every newborn puppy should be microchipped to make it easier to trace and prosecute owners of violent dogs.
Critics of the plan have questioned its effectiveness and the potential cost.
'Criminal trespassers'
Billy Hayes, general secretary of the CWU, said: "It's about time the law bit back to protect innocent dog attack victims.
"Thousands of postal workers and telecom engineers - along with other workers who go on to private property, and parents of small children - will sigh in relief at this announcement."
He said he hoped the new laws would make the desperately needed improvements to the "failed" Dangerous Dogs Act.
The CWU also said more than 10,000 people had signed an e-petition supporting changes to the law.
Under the proposed changes, millions of dog owners will have to pay to fit microchips to their pets detailing who the animals belong to.
Each chip, implanted into the loose skin between a dog's shoulder blades, contains a unique number.
The information will reportedly be stored on a central database which can be accessed by the police and the RSPCA.
Dog owners are also more likely to face prosecution in the future if their pet attacks someone in their homes, under further proposed changes to the law.
The CWU said 70% of dog attacks on its members happened on private property where the current law does not apply - effectively treating postmen and women as "criminal trespassers".
"The same goes for gas, water and electricity workers, district nurses, home helps, health visitors, care workers and even meals on wheels volunteers who are all left utterly unprotected by the law because of this weakness in legislation," a union spokesman said.
But The Freedom Association, a pressure group which campaigns for individual liberty, criticised the government's plans for penalising law-abiding dog owners.
In a statement on its website, the group said: "Each dog owner may have to shell out £35 for the microchip. Effectively, this would mean owners having to pay for the privilege of not being trusted."
More than 23,000 postal workers have been attacked by dogs over the past four years, and almost 400 have taken time off sick in the past year following an attack.
Earlier this month Northern Ireland became the first part of the UK to introduce a law on microchipping.
The Welsh government is to consult on plans for compulsory microchipping later this year, but there are currently no plans for Scotland to follow suit.