Tanker dispute talks adjourn after deal snubbed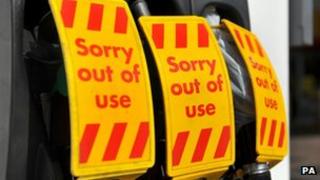 Union leaders will return to the negotiating table again on Tuesday, for an eighth day of talks aimed at averting a strike by fuel tanker drivers.
Members of the union Unite spent all day at the conciliation service Acas, discussing issues such as pay and pensions with distribution companies.
Unite will need to decide on Tuesday whether to call a strike.
The union have appealed to people not to panic buy or hoard fuel.
Peter Harwood, Acas Chief Conciliator, said: "I am encouraged that the parties are still positively engaged in the process.
"Talks will reconvene tomorrow morning," he concluded.
Under employment law the union will have to give seven days notice of any walkouts.
'Great foundations'
The talks will involve Hoyer, despite a hiccup which forced Unite to re-ballot its members at the firm after it discovered a number of its members had not received ballot papers last month.
Nick Dennis, a tanker driver who represents the North East of England for Unite, says the union is positive about the discussions.
He told the BBC: "We understand as a union, this is our last chance to build stable industry, a great industry with our employers as well, to go forward with.
"So it's key that we get all the foundations in place. We have built some great foundations in the document we've done, but it just doesn't go far enough to give us what we require."
Mr Dennis said: "If I need to be down there all week in negotiations to come with a document that will satisfy our membership, across the board, then I will spend all week doing that. Because we're not going to rush into this and call strike action."
James Hookham, managing director of industry body the Freight Transport Association, said: "We're within 100 days of the Olympics and we really have got more important things to worry about and things we need to get right in the logistics industry than worrying whether we're going to be able to get fuel or not.
"The basic requirements for a tanker driver are laid down in law so there's no question that currently tanker drivers are not safe or not meeting the mandatory standards. These are other issues around equipment and the length of time it takes to instruct a tanker driver. And it's those sort of things that can be the basis of an agreement and include the kind of issues and protections that perhaps the drivers are looking for.
"But I think both sides now are very focused that they need to get this sorted out."
After the dispute flared up last month the government advised motorists to top up their tanks with petrol and store fuel in jerry cans, actions which were blamed for panic buying and some petrol stations temporarily running out of fuel.
Prime Minister David Cameron admitted the tanker dispute had been part of a "difficult month" for the government.
Asked about the jerrycan confusion, Mr Cameron told BBC Radio 4's Today programme: "I accept that we need to learn lessons in terms of communications around the fuel strike."
But he said: "What matters with the fuel strike is that the government is taking the long-term decisions to make us a more resilient country against potential strikes. We inherited a position where the military could provide 10% of the country's fuel supplies... but we now have the ability of providing 50 or 60%, perhaps more, of the nation's fuel supplies because we have taken the right tough, long-term difficult decisions to get the military more involved."
"I want us to raise our game and do better, but the vision and the long term is what matters," said Mr Cameron.
'Fresh mandate'
Hoyer delivers fuel to Esso and Shell garages and has 530 drivers represented by Unite.
The Hoyer workers voted 59.7% in favour of strikes in a turnout of 80% in the previous ballot but will now vote again later this week.
Unite assistant general secretary Diana Holland said: "We remain committed to reaching a negotiated settlement with Hoyer and the other employers that brings stability and security to the supply of a vital commodity.
"It has come to our attention that a number of people did not receive ballot papers. This is a concern because we believe that everyone should have a say.
"We will be seeking a fresh mandate from our members in Hoyer who like all tanker drivers face a race to the bottom in an increasingly fragmented industry."