Hague discusses Heywood death with Hillary Clinton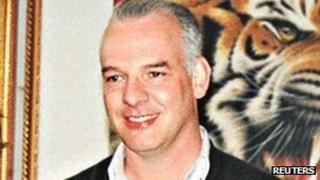 Foreign Secretary William Hague has spoken to his US counterpart Hillary Clinton, about the suspicious death of businessman Neil Heywood in China.
The Foreign Office say discussions have also taken place between British and US officials in Beijing.
The Briton's body was found in a hotel room in Chongqing on 15 November 2011.
Washington became involved after the city's chief of police, Wang Lijun, told US consulate staff of rumours the 41 year old's death was not accidental.
Gu Kailai, the wife of disgraced Communist party official Bo Xilai, is currently being held on suspicion of his murder.
Writing in response to further questions from MPs, foreign office minister Jeremy Browne confirmed that the case had been discussed with the US Secretary of State.
Last week, Mr Hague gave a detailed written account to the Commons about what the foreign office knew of Mr Heywood's death.
The foreign secretary insisted the Chinese investigation was launched following repeated requests from the UK.
The foreign affairs select committee have written to Mr Hague, demanding to know why ministers were not told sooner of Mr Heywood's case.
Neil Heywood was a family friend of politician Mr Bo, a former rising star of Chinese politics now suspended amid allegations of "serious discipline violations".
Unconfirmed reports in the Chinese media suggest that police suspect Mr Heywood may have been poisoned with cyanide, after threatening to expose a financial scam.
The business consultant's family were told he had died from alcohol over consumption, and he was cremated without a post mortem soon after his death.