London 2012: Thousands in biggest Olympic security test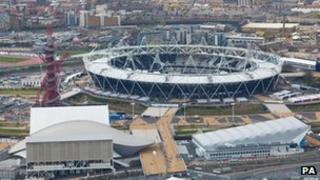 At least 4,000 people are taking part in the biggest security exercise ahead of the London 2012 Games.
Games organisers, government officials, council workers and transport operators have joined emergency services in a nationwide three-day test.
The exercise is designed to simulate 4-6 August, the busiest days of the Olympics, when 26 sports will be taking place across 14 venues.
Random incidents are thrown up to see how everyone involved reacts.
"The scenarios used are fictitous but simulate potential issues that have been identified as part of our risk assessment work," a spokesman for the Department for Culture, Media and Sport said.
'Command post'
"This allows us to develop our ability to deal with any eventuality, however unlikely, during the games, like the disruption in transport," he added.
It is the third and final "command post" exercise before the Games begin on 27 July.
The purpose of the tests was to make people familiar with their roles during the Games, the spokesman said.
"The exercise was also to ensure timely and accurate flow of information during the Games."
The events involved include beach volleyball at Horse Guards Parade, tennis at Wimbledon and the triathlon in Hyde Park.
Culture Secretary Jeremy Hunt said: "Obviously nothing can fully prepare us for the reality of hosting the world's biggest sporting event, but we really want to make sure we do all we can to ensure we deliver an Olympics and Paralympics that are as safe and secure as possible, while also making sure everyone involved has a great time."