Newspaper review: European shocks occupy papers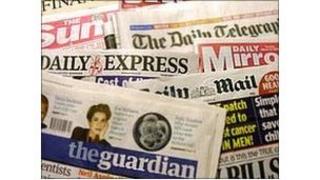 Nicolas Sarkozy's defeat in the first round of the French presidential race and the fall of the Dutch government give the papers much to think about.
The resulting falls in share prices around the world make the lead for the Independent and the Financial Times .
The Guardian says the events add to the political wreckage littering Europe.
In the words of the Times , the German-inspired doctrine of financial rigour is spurring revolt across the single currency bloc.
Divorced priorities
The attack on David Cameron and George Osborne by Conservative backbencher Nadine Dorries is widely reported.
The Daily Mail describes it as a "mauling" and the Daily Star says it was a "humiliating put-down" by one of Mr Cameron's own MPs.
In the Sun's view, Ms Dorries' description of them as "two arrogant posh boys" may not be far wrong.
It says the last few weeks have shown just how divorced their priorities are from those of the paper's readers.
Committed fund-raiser
Pictures of Claire Squires, the woman who died while running in the London Marathon, are on many front pages.
The Daily Mail says friends believe her decision to raise money for the Samaritans was partly inspired by the memory of her brother Grant who died 10 years ago at the age of 25.
According to the Daily Express, she was a committed fund-raiser, taking part in her second London Marathon.
She had also run the Belfast City Marathon and climbed Mount Kilimanjaro.
Ocean journey
Finally, the treasured football of a 16-year-old boy who lost his home in the Japanese tsunami has been found washed up 3,000 miles away in the US.
The Daily Express says the ball, with the boy's name on it, was found on an island 70 miles from Alaska.
According to the Sun, it is one of the first pieces of debris from the disaster to cross the Pacific.
The paper quotes the boy as saying he is "delighted" the ball has been found as he lost everything in the tsunami.