Sex attack victims sue cabbie John Worboys and his insurers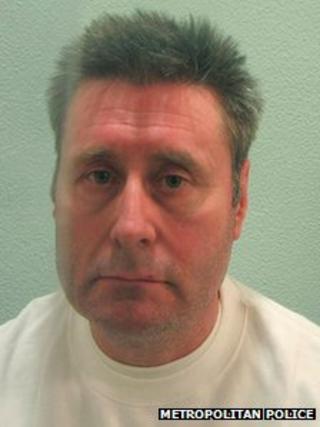 Women who were sexually assaulted by cabbie John Worboys are suing him and his vehicle insurers, arguing he used his taxi to attack them.
A High Court hearing will decide if the unnamed insurer is liable to pay any damages awarded against Worboys to a group of eight women.
It will consider how far car insurance covers harm caused by crimes using a vehicle - not just road accidents.
Warboys was jailed in 2009 for sexually assaulting his passengers.
The 54-year-old was given an indefinite prison sentence after Croydon Crown Court found him guilty of drugging and sexually assaulting women while working as a licensed driver.
The landmark case by his victims, which is set to last several days, will rule on whether the motor insurance company - which has been granted anonymity - must pay damages because of crimes committed by Worboys in his insured cab.
By law, motor insurance covers personal injury caused by use of a vehicle on a road, even when the vehicle is used as a weapon - for example to drive deliberately at someone.
The eight women claim Worboys used his black cab to entice, imprison and assault them.
'Symbol of security'
Counsel for the group of claimants, Edwin Glasgow QC, told the court: "The fundamental issue in these cases is whether personal injuries caused by a taxi driver's assaults on a passenger, during the course of a journey, were 'caused by or arose out of the use of a vehicle on a road' for the purposes of compulsory insurance as required by the Road Traffic Act 1988."
The key to this case, he said, was "the role that the taxi and the taxi driver played in the events which occurred".
The taxi was not just "a place" where attacks took place, Mr Glasgow QC argued, but played an "essential" part in the attacks, and was a "symbol of security which seduced these young women to believe they were safe".
It "provided the means" by which the attacks could take place, he insisted.
The QC said that each of the eight claimants was a passenger in Worboys' taxi in 2007 or 2008, and that he was "clearly liable to the claimants for his intentional tortuous conduct".
The court also heard that the liability to each woman was "in respect of the bodily injury caused to her by, and/or arising out of, the use of his vehicle on the road".
The next defendant - the insurers - said they had "agreed to and did insure Mr Worboys, pursuant to the Road Traffic Act 1988 in respect of his liability to the claimants for these matters".
However, they contested the action being brought by the women.
Remarking on whether the ruling could "open the floodgates" to many similar claims, Mr Glasgow QC said "the events described by these claimants are so rare" that their arguments would not "have broad policy implications".
The hearing continues.