Leveson Inquiry: James Murdoch's witness statement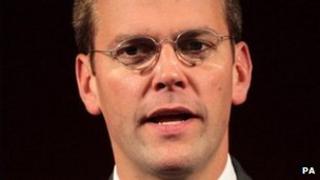 James Murdoch's witness statement to the Leveson Inquiry states that he was "not ordinarily involved in the editorial decision-making process" while chairman of News International (NI).
The written statement , dated 16 April 2012, was published by the inquiry as Mr Murdoch gave evidence on Tuesday.
Mr Murdoch said: "Although from time to time I had conversations with the editors and their staff about the editorial agenda for the following month, I saw it as their job to make the decisions about what went into the paper."
He added the editors had been "carefully selected" in consultation with his father, Rupert Murdoch, chairman and chief executive of News Corporation, NI's owner.
Among other points, James Murdoch said:
An email sent to him about phone-hacking at the News of the World "has been widely misreported and misunderstood"
It was not a "warning that voicemail interception was widespread"
The email was specifically about a claim brought by Professional Footballers' Association chief Gordon Taylor, which the NoW was trying to settle
Allegations raised by a judge during civil proceedings by phone-hacking victims that senior executives at News International implemented a "pre-conceived plan to hide emails" did not relate to him
He was not aware of any "pre-conceived plan to hide emails" or to "destroy evidence"
He "had no role or responsibilities" in relation to any investigations by News International into claims a Times journalist was involved in hacking into an email account
On News Corporation's bid for BSkyB, then Business Secretary Vince Cable turned down the company's offer of meetings. After Mr Cable ordered Ofcom and OFT probes into the bid on 4 November 2010, he reportedly said he had "declared war" on Rupert Murdoch
He spoke to Chancellor George Osborne about the "slow progress" on regulatory matters surrounding the BSkyB bid on 29 November 2010
After responsibilities were passed on to Culture Secretary Jeremy Hunt, he spoke "briefly" to Prime Minister David Cameron about the bid at a 23 December 2010 dinner hosted by NI executive Rebekah Brooks
He had a number of discussions - two at face-to-face meetings - with Jeremy Hunt about general media industry issues and did raise the bid
News Corporation representatives "concerned... with our ability to communicate the strength of our substantive arguments to the relevant authorities" spoke to Jeremy Hunt or his advisers during the proposed bid for BSkyB
Discussions at NI meetings would cover circulation, general performance, advertising revenue, the editorial agenda and proposed supplements. "The editors did not typically involve me in decisions to run stories or to cover them in a particular way"
It was important to select "strong leaders of individual operating businesses and to give them the degree of autonomy necessary to respond to local conditions"
He was involved in discussions leading to the decision to close the News of the World in 2011 in the wake of the phone-hacking scandal
The decision was prompted by the fact that the "paper had been sullied by behaviour that was wrong"
There had been "growing commercial and political pressure, we held ourselves to account... There was a high likelihood of further arrests, on information available to us at that time, and it was very difficult for the paper to continue to operate in that environment
NI had been slow to probe allegations that widespread phone hacking had taken place earlier as police had announced that the original case had been "the subject of the most careful investigation by very experienced detectives", that no additional evidence had come to light and that no further investigation was required
His current roles, which includes deputy chief operating officer of News Corporation, does not see him report directly to his father
He has "no knowledge of how" NI newspapers came to endorse the various political parties ahead of the 1997 and 2005 general elections
He was party to discussions which saw the Sun switch its allegiance from Labour to the Conservatives in 2010
The Sun had started moving away from the Labour Party over lack of funding, supplies and support for British troops in Afghanistan after the government had committed to the conflict there. The consensus was reached after discussing a range of policies and effectiveness at implementing them and resulted in the decision to support a change in government
He made David Cameron aware of the decision the Sun had taken to back the Tories. "This was the only time that I conveyed support of the papers. However, from my own point of view there was not, and never has been, any issue of support being conditional on particular policies or contingencies".