Madeleine McCann: Police issue image of girl aged nine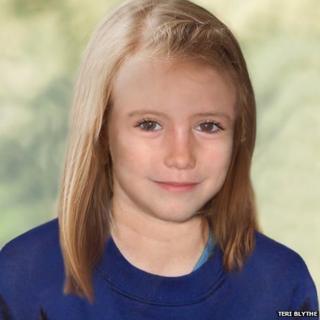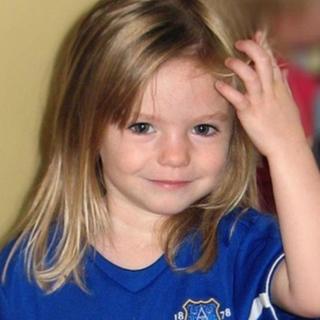 UK detectives reviewing evidence into Madeleine McCann's disappearance have issued a computer-generated image of what she might look like now.
The picture, created with the McCann family, shows how she would look aged nine, the Metropolitan Police said.
Having analysed the evidence, the Met said it is possible Madeleine is alive, and they believe she was abducted.
Madeleine, from Rothley, Leics, was nearly four when she disappeared from a holiday apartment in Portugal in 2007.
On Tuesday, Det Ch Insp Andy Redwood, who is heading the UK review, told the BBC's Panorama programme his team were "seeking to bring closure to the case".
'Close collaboration'
The UK review began last May after Prime Minister David Cameron responded to a plea from Madeleine's parents Gerry and Kate.
The Metropolitan Police have been working in "close collaboration" with a senior investigating officer from Portugal's Policia Judaria.
The review team has been compiling and reviewing material from three separate strands - the Portuguese investigation, inquiries by the UK law enforcement agencies, and the work of private investigators or agencies.
It is believed to be around 40,000 pieces of information equating to about 100,000 pages.
"The intention is to identify from that material investigative opportunities which we will then present to the Portuguese authorities who retain primacy for the investigation.
"Officers have so far identified around 195 such opportunities within the historic material, and are also developing what they believe to be genuinely new material," said the Metropolitan Police.
The force said the objective of the team was to work with the Portuguese authorities with a view to having the case, closed since 2008, re-opened in due course.
DCI Redwood said: "From the outset we have approached this review with a completely open mind, placing Madeleine McCann at the heart of everything we do.
"We are working on the basis of two possibilities here - one is that Madeleine is still alive; and the second that she is sadly dead," he said.
The Metropolitan Police have also appealed for anyone with new information to come forward.