London 2012: Olympic fans told to expect half hour entry time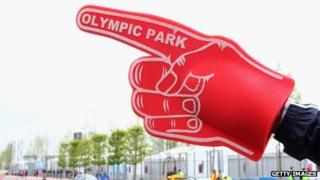 No spectator will have to wait more than half an hour to get into an Olympic or Paralympic Games venue this summer, according to organisers Locog.
Their director of sport Debbie Jevans told BBC Radio 4's Today programme they did not want people to have to queue.
"We are encouraging people to get there in plenty of time and it will take around 20 to 30 minutes to get in, maximum," she said.
A week-long series of test events is taking place at the Olympic Park.
More than 140,000 spectators are watching 3,000 athletes take part in water polo, hockey, wheelchair tennis, athletics, paralympic athletics and boccia over the course of the seven days.
Spectator flows, workforce, security, the field of play, scoring, results, timing and the venues will be assessed.
The events started on Wednesday and there were reports of spectators and journalists waiting in long queues for entry.
Ms Jevans added: "We are testing everything from access and egress and part of that is the way spectators get in.
"We are also testing for the first time the full search regime that will be in place at the Games. We tested that for one day and yes the queues were slightly longer but not all the access points were in operation. There will be many more at Games time.
"We are also testing our workforce and for many of them this is the first time they have manned those stations and we are confident it is improving day by day."
Once this test is completed, Locog will have carried out 42 test events in six months, across 28 venues.
At the Olympic Park, during peak times, more than 60 pedestrian screening areas at Stratford Gate and 15 at Greenway Gate will allow access for a minimum of 4,000 spectators to enter each day.
In what will be the biggest test, organisers will monitor the Park's common spectator areas between five venues which will be open to about 75,000 spectators on Saturday.
Locog Chairman Seb Coe said the exercise was a "hugely important part of our plans".
Official opening
This weekend, the Olympic Stadium is hosting the British Universities and Colleges Sport Outdoor Athletics Championships and the Visa London Disability Grand Prix.
And more than 40,000 spectators will be at the stadium on Saturday evening for the " 2012 hours to go " event which will see the stadium officially opened by a member of the audience.
Other events being held in the park include the FINA Olympic Games synchronised swimming qualification at the Aquatics Centre, the hockey tournament at Riverbank Arena, a wheelchair tennis international at Eton Manor and a water polo international at the Water Polo Arena.
Teams including Great Britain and current Olympic and world champions Russia are competing at synchronised swimming.
The hockey includes the world's top men's team, Australia, and the women's world champions Argentina play alongside Britain's men's and women's teams.
Hockey's Riverbank Arena venue is uncovered and Ms Jevans explained: "If you look at Wimbledon and Lord's that do have covers - they are permanent facilities that have events annually.
"We are putting on the Olympic Games for 16 days and the Paralympic Games for 12 and made a judgement call as to whether it was appropriate or not to make that extra investment, increase the strength of the stands and put roofs on. We determined it was appropriate not to have covers."
Australia, the USA, Russia and Team GB are competing at the water polo tournament.
The Olympic Park will also play host to the final day of the Sainsbury's 2012 School Games, for 1,600 school-aged elite athletes in four different park venues, watched by about 35,000 spectators.
Meanwhile a nine-day security test is also under way, involving Royal Navy ships, RAF helicopters and jets.
The test, which lasts until 10 May, will form the basis of military advice to the government for the Games.