London 2012: Pupils 'proud' to star in Olympic ceremonies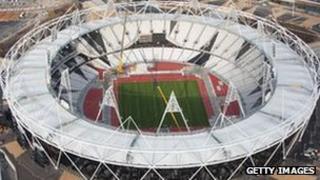 East End schoolchildren have said they feel "proud" to represent their country after being picked to star in the opening and closing Olympic ceremonies.
London 2012 named the schools whose pupils will star in the Olympic and Paralympic ceremonies.
The schools are in the host boroughs and signed up to London 2012's Get Set educational network.
The Olympics opening ceremony will take place on 27 July and the closing ceremony will be held on 12 August.
The opening ceremony of the Paralympics will take place on 29 August while the closing ceremony will be held on 9 September.
"It would mean the world to participate in a once in a lifetime experience, an experience that I would be very proud to be representing my country and my school in," said Kirsty Wrighton of Leytonstone School, who will be part of the closing ceremony.
Describing herself as "a normal girl from Walthamstow" who worked hard for the opportunity, she said it shows that "if you do your best you can achieve anything."
Pupils from the Little Ilford School in Newham and Thomas Tallis in Greenwich will feature in the Olympic closing ceremony.
Children from Barking and Dagenham schools including the Dagenham Park Church of England School, Jo Richardson Community School, Barking Abbey specialist sports and humanities college, William Ford Church of England Junior School plus the Roding Primary School will feature in the closing ceremony.
Youngsters from Leytonstone School in Waltham Forest, George Green's School in Tower Hamlets and the Hackney-based Stoke Newington School, will also appear in the closing ceremony
The opportunity to appear in the Paralympic opening ceremony has been rewarded to pupils from Hackney's Millfields Community School, the Trinity School in Barking and Dagenham and the Eastlea Community School in Newham.
The Paralympic closing ceremony will feature pupils from Morpeth School in Tower Hamlets, John Roan Secondary School in Greenwich, and Woodside Primary School in Waltham Forest.