Immigration Services Union orders walkout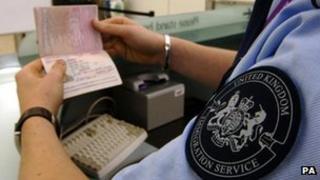 The Immigration Services Union (ISU) is set to go on strike next Thursday, in a row over pensions.
The union has now informed employers of their intention to strike on 10 May, a Home Office spokesman said.
It is one of three unions with Border Force members. The Public and Commercial Services union is already due to strike.
The First Division Association is still balloting so will not take part in any action next week.
The ISU said serious disruption was unlikely should the strike go ahead.
It believed managers would be used to cover for its members during the industrial action.
"The government will run some kind of skeleton service. If the airlines advise people not to travel on that day things might be quiet," a union spokesman said.
The ISU is in dispute with the government over plans to increase the retirement age for public service employees, linking it to the state retirement age.
The union represents 4,500 border agency staff spread over ports and airports across the UK and abroad.
'Completely unnecessary'
The PCS union, which represents tens of thousands of civil servants, lecturers, health and defence staff and members of the Royal Fleet Auxiliary is also taking part in strike action on the same day.
In a statement Immigration Minister Damian Green said: "This strike is completely unnecessary and we believe the public will find it unacceptable if unions push ahead".
"The security of the UK border is of utmost importance and we will use tried and tested contingency plans to ensure we minimise any disruption caused by planned union action."
"We want a fixed retirement age of 65 for immigration staff", Mr Green said.
The opposition Labour Party said some 1,500 Border Force staff were being cut as the management of Britain's borders drifted "from one shamble to another".