Asil Nadir employee 'tore up transfer evidence'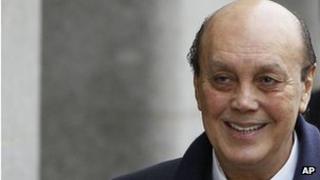 A Polly Peck employee ripped up evidence of money transfers relating to Asil Nadir during a police search, the Old Bailey has heard.
Metropolitan Police Detective Inspector Michael Hawkins told the court he was handed an envelope containing torn pieces of paper in October 1990.
He said it was torn up by the company's assistant treasurer.
Mr Nadir, 71, who is accused of stealing nearly £150m from his Polly Peck empire, denies all the charges.
Det Insp Hawkins told the court that as he arrived in the company's reception area he was approached by Polly Peck International's (PPI) company secretary and director Peter Compson who handed him an envelope containing pieces of torn paper.
He then saw Ersin Tatar, the assistant treasurer at PPI, in the security officer's room and spoke to him about the pieces of paper.
The prosecution allege that Mr Tatar assisted Mr Nadir in the dishonest movement of money from PPI and enjoyed a close working relationship with the Polly Peck boss.
'Not important'
Det Insp Hawkins told the court that when he asked why the paper had been torn up, Mr Tartar replied, "They are not important".
He said he asked why he wanted to hide unimportant pieces of paper, Mr Tartar replied: "I did not want you to find it in my briefcase".
Det Insp Hawkins told the court: "I said you tore this piece of paper into such small pieces it must be important. Tell me what the paper is."
Mr Tatar replied: "It's not important."
Det Insp Hawkins said that he told Mr Tatar he had already been interviewed and was aware of the issues involved in the case.
"I said 'you could be in serious trouble, tell me what it is'. He said 'they are to do with the transfer of money for Mr Nadir to Northern Cyrpus'."
Det Insp Hawkins told the court that when he asked Mr Tatar what it was in connection with, Mr Tatar told him it was to do with Bozkurt, which is understood to be a Turkish newspaper.
He told Mr Tatar he would have to speak about the matter to him at a later date.
Country estate
Gareth Patterson, prosecuting, told the court that the torn pieces of paper were reassembled by police.
The papers showed the name and address of Ersin Tatar and details from Barclays bank statements and references to financial transfers to Impexbank in 1990, a Turkish bank purchased in 1988 by Asil Nadir.
Det Insp Hawkins also told the court about a search he conducted at the offices of South Audley Management on 19 September 1990 and documents that were discovered in the office of Elizabeth Forsyth, a director who the prosecution allege helped Asil Nadir carry out dishonest transactions.
The recovered papers related to demands for overdue tax by the Inland Revenue amounting to millions of pounds as well as records of inquiries by national newspaper journalists asking for information about shareholdings related to Polly Peck International.
Documents also recorded proposals to sell Asil Nadir's country estate at Baggrave, Leics, to offset liabilities of more than £3m owed by the registered owners, Vemak.
There were also records of frequent requests made by an H Anvarzadeh relating to a payment of £79,000 due for a Mercedes car sold to Asil Nadir's former wife, Mrs Ayshegul Nadir, which the court has heard was never fully paid and as a consequence not delivered.
The trial continues.