MPs criticise government's railway plan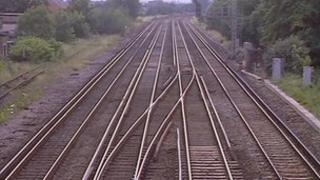 A Commons motion signed by more than 100 MPs has criticised government plans for the railways - warning of declining services, higher fares and job cuts.
The Rail Command Paper , published in March this year, sets out the government's vision for the railways.
The Early Day Motion, tabled by Labour MP John McDonnell with cross-party support, urged the government to run the railway as a "public service".
The government said its plan was to reduce the cost of running the railway.
The plan "will worsen passenger services through the loss of thousands of frontline workers from trains, stations, ticket offices, safety-critical infrastructure and operational roles", the MPs warned.
It would also "result in higher fares", cut services and "more crowded trains".
TUC research, also carried out in March, said fare prices were rising "despite a 50% decline in investment by train operating companies in the railway network over the last five years".
The research found more money being spent on back office functions like IT, and the funds for tracks and signals "reduced from £105m in 2006-07 to zero last year", it said.
Its deputy general secretary Frances O'Grady said: "MPs from across the political spectrum are voicing the concerns of thousands of their constituents who feel ripped off by private train operators who inflict heavy fare rises while cutting staff on trains and stations and keeping investment in decent facilities on trains and stations to a minimum."
'Passenger experience'
Bob Crow, leader of the Rail Maritime and Transport union, said: "This government has learnt nothing from the tragedies of the past and is allowing the profiteers to bleed the railways of desperately needed investment while creating the perfect conditions for another Hatfield or Potters Bar."
Rail minister Theresa Villiers said the government's plan was "to reduce the cost of running the railway by £3.5bn per annum by 2019".
The minister said funds were allocated for "thousands of new carriages across the country, electrifying swathes of the rail network, and redeveloping many of our great railway stations" to address "crowding, cut journey times and improve passenger experience".
A spokesman for the Association of Train Operating Companies said: "Train companies are pressing for reform that aims to help limit future fare rises by reducing the costs of running the railways, while making sure that we can keep on improving services for passengers.
"The reform agenda is about bringing the different parts of the railway closer together to provide a better deal for passengers and taxpayers."