Basque suspect loses court extradition bid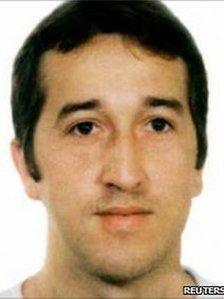 An alleged Basque militant has lost his High Court bid to halt his extradition to Spain on terror-related charges.
Eneko Gogeaskoetxea Arronategui, 44, faces trial in Spain for a series of offences, including placing grenade launchers at Madrid's Barajas airport.
He was arrested last July while living in Cambridge.
Two High Court judges overturned a magistrates' court decision that prevented his extradition on the charge of attempting to kill King Juan Carlos.
Deputy Senior District Judge Daphne Wickham, sitting at Westminster Magistrates' Court in London in January, said he could not be extradited on the attempted 1997 assassination charge after she accepted a defence submission that it was unsustainable in Spanish law.
But Lord Justice Laws and Mr Justice Griffith Williams ruled that extradition could take place on all charges.
Mr Justice Griffith Williams said: "The district judge should not have concerned herself with the issue of whether the appellant could be convicted in Spain of the offence of attempted assassination and so her decision must be quashed."
Mr Gogeaskoetxea's QC, Edward Fitzgerald, told the High Court at a hearing last month that his client faced a real risk of "a flagrant denial of justice" in Spain because the accusations against him were based on the confessions of a co-defendant denied proper access to a lawyer.
In quashing the magistrate's decision, Mr Justice Griffith Williams said: "There are no bars to the extradition of the appellant to Spain and such [extradition] orders would not be incompatible with his human rights under section 21 of the 1998 Human Rights Act."
He also said: "It must be for the Spanish court to decide whether the charge of attempted assassination has been proved by the evidence and if not, whether an alternative charge to one of the offences within the European [Arrest Warrant] framework has been so proved."
Mr Gogeaskoetxea is alleged to have become a member of the Basque separatist group Eta in 1996 and been involved in a plot to kill the Spanish king who was due to attend the Guggenheim Museum in Bilbao in 1997.
Under international rules a suspect can be prosecuted only for those crimes for which an extradition order is granted.