Conspiracy charges for three arrested after terror raids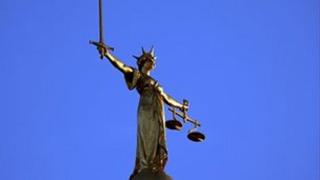 Three men arrested during counter-terrorism raids have appeared in court charged with conspiracy.
Adrian Wall, 49, Liiban Nursharif, 30, and Daud Ali, 40, were detained on Tuesday after raids on four addresses in London, Coventry and Cardiff.
They and four others were initially held under the Terrorism Act after an investigation into alleged smuggling of the stimulant khat out of the UK.
The three men are accused of mislabelling parcels for export.
Mr Ali was also charged under the Identity Documents Act for allegedly possessing a fake Norwegian passport.
Mr Wall, of Pitt Road, Thornton Heath, Surrey, Mr Nursharif, of no fixed abode and Mr Ali, of Wakehurst Place, Cardiff, spoke only to confirm their names, dates of birth and addresses when they appeared at Westminster Magistrates' Court.
Mr Ali and Mr Nursharif were remanded in custody and Mr Wall was granted bail, with restrictions.
The remaining four suspects, a woman aged 45 and three men aged 47, 45 and 42, are still being held under the Terrorism Act, Scotland Yard said.
In an earlier statement, Scotland Yard said the initial arrests were part of an investigation into a network suspected of illegally exporting the stimulant khat to the US and Canada.
Investigators from the US Department of Homeland Security have also been involved.
The plant khat is used by some people from East Africa and is not banned in the UK - but it is a controlled substance in North America.
It is a relatively mild stimulant compared with other drugs circulating in the UK and is typically used by older men from the Horn of Africa.
In 2005, the Home Office's official drugs advisers concluded that "the evidence of harm resulting from khat use is not sufficient to recommend its control".
The UK served as a legal staging post for imports of khat to other nations before it was controlled in North America and other European Union countries.