Four charged with ticket touting in pre-Olympics clampdown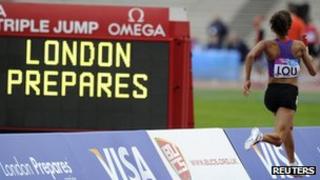 Four men have been charged with ticket touting as part of a police clampdown ahead of the Olympic Games.
Plain clothes officers from the Metropolitan Police's Operation Podium arrested nine men near Wembley Stadium shortly before the FA Cup Final.
The suspects, between 22 and 45 years old, were taken to a north London police station.
The four who have now been charged will appear at Hendon Magistrates' Court later this month.
They are: Peter Hall, 45, of Erith; Gerrard Connely, 27, and Peter O'Brien, 28, both from Liverpool, and Benoni Davies, 37, of Newbury.
One of the nine men arrested has been cautioned, and four were released with no further action to be taken.
The Met says people who want to see the Games should buy tickets from approved sellers or risk disappointment.
Operation Podium is designed to tackle fraud in relation to the Olympics and on Saturday a 35-year-old man from Northampton appeared in court charged with four counts of fraud in relation to a separate alleged Olympics scam.
Ahead of the Games, the maximum fine for touting Olympic tickets was raised from £5,000 to £20,000.