Newspaper review: Coalition's future under examination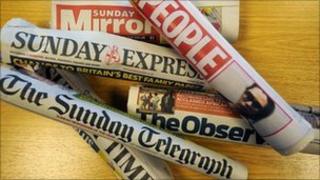 The turmoil in the Conservative Party following Thursday's poor showing in the local elections is the focus for many papers.
The Sunday Telegraph says there is a battle plan to stop the party descending into civil war.
The Sun says Prime Minister David Cameron is ripping up the Queen's Speech, in order to put crime, immigration, and jobs centre stage, in place of less popular ideas such as Lords reform and gay marriage.
The Sunday Express says leaders "ignore Middle Britain at their peril".
Many papers think a more fundamental change is needed than just tinkering with policies.
The Sunday Telegraph says Mr Cameron must spell out his vision for Britain: "If the Big Society is the essence of his thinking he is in trouble because few understand it and even fewer support it," says the paper.
The Sunday Times says the voters' love affair with the coalition is over. It believes people now regard the government as incoherent and incompetent.
The Observer agrees, accusing Mr Cameron of mislaying competence, vision, and values, as he heads a government which appears rudderless.
The lead for The Observer is claims that customs checks aimed at thwarting drugs and arms smugglers have been downgraded, in order to deal with the growing queues at Britain's airports.
A Border Force insider has told the Daily Star Sunday that switching staff to swiping passports means there are no doubts that smugglers are slipping through unchecked.
The Sunday Times says Heathrow is offering a secret service costing £1,800, so that wealthy passengers can avoid waiting at passport control.
The paper says it is raising millions of pounds for the airport operator, BAA, but sometimes means border staff are taken away from their regular duties to assist VIPs.
The Mail on Sunday reports Environment Secretary Caroline Spelman caused confusion among cabinet colleagues by saying she might have to call a joint drought-and-flood summit.