London 2012: Olympic ticket priority sales dates revealed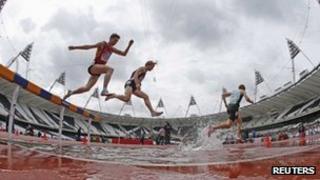 Some 900,000 Olympic tickets are going back on sale, starting on Friday for a group of people who were unsuccessful in the ballot and second chance sales.
The 20,000 fans will have an exclusive 31-hour window from 11:00 on 11 May in which to purchase up to four tickets for a single event.
A million other unsuccessful ballot applicants can then apply for tickets from 13-17 May.
Unsold and Olympic Park tickets will then be made available to the public.
Seb Coe, chairman of Games organisers Locog, said: "We're very mindful of the promise we made last summer to get tickets to as many people who applied as possible, and prioritise them in future sales.
"This process only applies to a small group of our dedicated fans. We promised to get tickets into the hands of those who are our biggest fans."
Applicants can try to buy up to four tickets for one event only.
The first priority group of 20,000 people are those who applied in the ballot and then the second chance sale but missed out in the latter, despite applying for apparently available tickets.
The ticketing system at that time was meant to be showing "live" availability so they may have thought they had been successful in their application, only to find out by email on 26 June 2011 that they had failed.
They will now be contacted directly via email by Locog on Tuesday 8 May.
The 20,000 will be able to choose from any event including the opening and closing ceremonies, for which limited tickets are available. However Olympic Park tickets will not be part of their sale window.
From 13 to 17 May, the group of one million fans who unsuccessfully applied in the first ballot will have the chance to try to buy tickets, including 70,000 Park tickets.
Different sports are available from 11:00 each day, as follows:
13 May - Hockey, Tennis, Wrestling (Freestyle), Wrestling (Greco-Roman), Beach Volleyball and Football
14 May - Athletics (Race Walk), Athletics (Marathon), Canoe Slalom, Canoe Sprint, Shooting, Swimming, Volleyball, Weightlifting and Cycling (Track)
15 May - Equestrian (Dressage), Equestrian (Eventing), Equestrian (Jumping), Diving, Synchronised Swimming, Handball, Table Tennis, Swimming (Marathon) and Water Polo
16 May - Basketball (North Greenwich Arena sessions), Badminton, Sailing, Gymnastics (Artistic), Gymnastics (Rhythmic), Gymnastics (Trampoline), Judo, Taekwondo, Boxing and Fencing
17 May - Archery, Basketball (Basketball Arena sessions), Cycling (BMX), Cycling (Mountain Bike), Cycling (Road), Modern Pentathlon, Rowing, Triathlon and Olympic Park tickets
Any tickets which are unsold will be rolled forward into the next day's sales. Applicants can only apply for one session and once they are successful will be unable to buy any more tickets during this sales period.
On 23 May any unsold tickets will be made available to the general public and Olympic Park tickets will go on general sale.
The payment method will be by debit, credit or prepaid Visa card.
From 29 May, new tickets priced from £5 to £15 will go on sale for the cycling road race at Box Hill in Surrey , the cycling individual time trial at Hampton Court Palace, and Wimbledon's Hill area with its big screens.
Those with day tickets for the Olympic Park or for sporting events there can also buy tickets for the same day for the Orbit Tower. Tickets will cost £15 full price and £7 for young people aged 16 or under or seniors aged 60 or over.
Organisers will be hopeful of avoiding the problems which plagued earlier ticket sales.
Chris Edmonds, managing director of Ticketmaster, said: "At times of major activity online, there's potential for slowing up of the ticketing process.
"Constantly clicking refresh on screen doesn't improve your position - once you are in the queue, you're in it and we'll process it, so we're asking people to be patient."
Locog chief executive Paul Deighton warned applicants to be organised.
"It's really important that people plan - they can purchase from one session and they'll then be closed off from the system," he said.
Rules over babies requiring tickets for Olympic events have also been clarified.
Earlier this year there was anger when it was announced that parents whose children were conceived after they had bought tickets would be required to get an extra ticket for their newborn child.
Locog have now confirmed that babes in arms, aged 12 months or under, will be allowed into almost all London 2012 venues without a ticket but strapped securely to a parent or carer in a baby carrier, sling or similar item.
The only exceptions are Wembley Stadium, St James' Park, Old Trafford and North Greenwich Arena, where existing licensing agreements mean all spectators need a ticket, regardless of their age.
Paralympic tickets go back on sale on 21 May, exactly 100 days before the opening ceremony of the Games. More details will be released nearer the time.