George Michael never asked to appear, Leveson Inquiry claims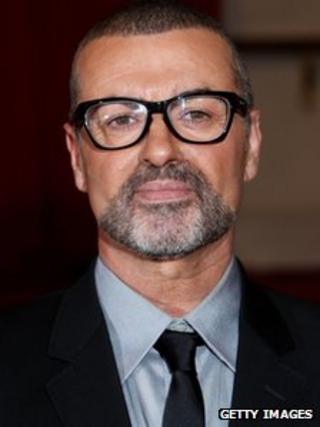 The Leveson Inquiry has said it never asked George Michael to appear, after the singer claimed he had declined a request to speak to the press probe.
An inquiry spokesman said: "We have never made a direct approach to George Michael to appear at the inquiry."
On Twitter, Mr Michael called the official response to phone hacking a "sham", but if there were prosecutions he was "more than happy to help".
"Shame on our political system for its refusal to take this further," he said.
The singer has previously been named as a possible victim of News of the World phone hacking.
"I was asked to talk to the Leveson inquiry, but I declined," Mr Michael wrote.
He went on: "It has been several years since two hacking journalists were sent to prison for bugging the royal family.
"Why on earth are the rights of the royal family more important than those of Milly Dowler's parents, or of any of the hundreds of people whose lives have been violated by the press?"
He concluded: "The day they make this sham real and start genuinely prosecuting people I would [be] more than happy to help ... till then, what's the point."
The News of the World's then-royal editor Clive Goodman and private investigator Glenn Mulcaire were jailed for illegally accessing royal aides' mobile phone voicemails in 2007.
Dozens of people have been arrested in recent months as part of Scotland Yard's ongoing investigations into press phone and computer hacking and corrupt payments to police.
Concurrently, the judicial inquiry led by Lord Justice Leveson is examining "the culture, practices and ethics" of the UK media.
Court rulings
Also on Tuesday, the Court of Appeal ruled that former News of the World editor Andy Coulson could challenge a court ruling that his former employer did not have to pay his potential legal costs in the phone-hacking affair.
Judges said Mr Coulson had an "arguable case" which should go before three judges at a full one-day hearing, for which no date was set.
Mr Coulson wants a declaration that News Group Newspapers (NGN), which stopped reimbursement in August last year, "must pay the professional costs and expenses properly incurred" by him "in defending allegations of criminal conduct" during his tenure.
He was arrested in July 2011 - several months after he resigned as Prime Minister David Cameron's director of communications - over the phone-hacking allegations and released on bail. He has denied wrongdoing.
On Tuesday afternoon, the Supreme Court begins considering an appeal by Mulcaire against the possibility of being forced to reveal who asked him to hack phones.
His appeal relates to cases brought by actor Steve Coogan and PR consultant Nicola Phillips, who are pursuing civil damages claims for breach of confidence against both NGN and Mulcaire.
Ruling on this matter in February, the Court of Appeal decided that Mulcaire did not have the right to refuse to say who asked him to intercept voice messages.
But in a statement issued before the latest hearing, Mulcaire said: "This Appeal is being heard because I have been advised by my legal team from the outset that I should not have to give potentially incriminating answers to questions asked of me in the phone hacking cases in the High Court."
The appeal was "to protect my legitimate legal interests", he said, adding: "Any suggestion that I am bringing this appeal, or defending the civil claims, to protect the company I used to work for, or any one at that company, would be completely wrong."
The Supreme Court hearing is expected to last two days.
In December last year, Mulcaire was arrested on suspicion of conspiracy to hack voicemail messages and perverting the course of justice. He was released on bail.