London 2012: Olympics tickets timeline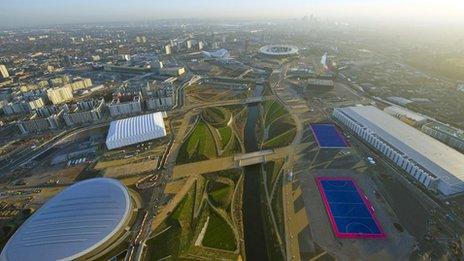 A further 900,000 tickets to the London 2012 Olympic Games will be made available from Friday.
Games organisers Locog has resolved to raise a quarter of its £2bn budget through ticket sales.
Up until January 2012, Locog said 3.8m tickets had been sold.
Here is a breakdown of the ticket sales timeline.
March 2011-April 2011 - Ballot application
Some 1.9 million British people applied for 22m tickets in the first public ballot, which was fraught with technical problems - 2.9m tickets were sold.
More than two million applied for seats at the opening ceremony.
24 June 2011-21 July 2011 - Second chance sales
In the second round of sales, open to unsuccessful applicants from the first round, 900,000 tickets were sold.
But thousands of people thought they had bought tickets only to be told the following day they would not be charged, as they had not actually got any tickets.
And 10,000 tickets to watch synchronised swimming were put up for sale which did not exist. Customers were offered a swap with seats at some of the Games' most sought-after events, including the men's 100m final.
29 November 2011-6 February 2011 - Football sales
Some 100,000 tickets sold.
6 January-3 February 2012 - Unwanted tickets
Window for people to sell unwanted Olympics tickets to other fans.
The site was designed for people to buy and sell tickets but it crashed within hours of the resale window opening on 6 January, closing the same day.
It reopened 11 days later and this time Locog said it would buy back all tickets at face value.
In all, 100,000 tickets were returned.
30 April - 6 May 2012 - Football tickets resale
Some 1.4 million football tickets went on sale.
11 May 2012 - Tickets go back on sale
Around 900,000 tickets available.
First priority will be given to the 20,000 people who were unsuccessful in the initial Olympic ballot in March 2011 and thought they had secured tickets during the second chance sales in July 2011, only to learn days later they had not.
These 20,000 people would have received notification on 26 June 2011 that their second chance sales application was unsuccessful and will receive another e-mail confirming their availibility.
They will be given 31 hours' exclusive access - from 11am on 11 May to 6pm on 12 May - to the tickets for all events with limited tickets for the opening and closing ceremonies.
The one million people who applied in the initial ballot, but were unsuccessful, will then have an exclusive five-day sales period during which time different sports will be available from 11:00 BST each day, as follows:
13 May - Hockey, Tennis, Wrestling (Freestyle), Wrestling (Greco-Roman), Beach Volleyball and Football
14 May - Athletics (Race Walk), Athletics (Marathon), Canoe Slalom, Canoe Sprint, Shooting, Swimming, Volleyball, Weightlifting and Cycling (Track)
15 May - Equestrian (Dressage), Equestrian (Eventing), Equestrian (Jumping), Diving, Synchronised Swimming, Handball, Table Tennis, Swimming (Marathon) and Water Polo
16 May - Basketball (North Greenwich Arena sessions), Badminton, Sailing, Gymnastics (Artistic), Gymnastics (Rhythmic), Gymnastics (Trampoline), Judo, Taekwondo, Boxing and Fencing
17 May - Archery, Basketball (Basketball Arena sessions), Cycling (BMX), Cycling (Mountain Bike), Cycling (Road), Modern Pentathlon, Rowing and Triathlon. Olympic Park ground admission.
All customers will be limited to applying for one session and a maximum of four tickets.
Any unsold tickets each day will be carried over to the following day, and the sale ends at 11pm on 17 May.
If there are still unsold tickets after this point, they will go back on general sale from 23 May at 11:00 BST.
17 May and 23 May - Olympic Park ground admission
Tickets costing £10 for adults and £5 for young people and seniors will enable spectators to watch action on the big screens but not to enter the venues.
Any unsold tickets from this batch will go on general sale on 23 May and further Park tickets will be available closer to Games time.
Locog has also announced that remaining tickets for the Paralympic Games will go on sale from 11:00 BST on 21 May.
On 29 May new tickets will go on sale for:
• Cycling Road Race at Box Hill, Surrey. Tickets will be £15 full price and £5 for young people and seniors for the viewing area at Donkey Green and £10 and £5 for the viewing area at Dormouse Drive.
• Cycling Individual Time Trial at Hampton Court Palace. These tickets will be £15 full price and £5 for young people and seniors at Viewing Area A and £10 and £5 at Viewing Area B.
• Wimbledon which will provide access to The Hill and the big screen only. These tickets will be £10 full price and £5 for young people and seniors
• The Orbit. Tickets will cost £15 full price and £7 for people aged 16 or under and seniors aged 60 or over. These tickets should only be purchased by people who have an Olympic Park ticket or a sport ticket for an event in the Olympic Park for the day they wish to visit the Orbit.
Related Internet Links
The BBC is not responsible for the content of external sites.