Hurdler Dai Greene warns youngsters over rail shortcuts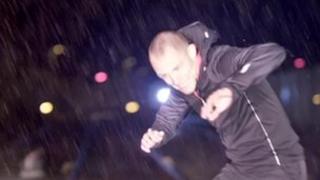 Olympic gold medal hopeful Dai Greene is leading a safety campaign aimed at young people who risk their lives by taking shortcuts across train tracks.
In an online advert, Welsh athlete Greene races across the tracks while an imaginary train is coming - but the champion hurdler does not make it.
Forty-nine people were killed last year trespassing on the rail network, according to Network Rail figures.
Trespassing also cost the industry £9m and caused 15 days of delays last year.
BBC transport correspondent Richard Westcott said there were hundreds of near misses each year.
Saturday night
Most were young men and most incidents occurred on a Saturday night, our correspondent said.
Dyan Crowther, of Network Rail, said: "When we have an event like this we are required to stop our trains, to caution them and obviously there's the impact on the business that that entails."
Train driver of 14 years Martin Crowe told the BBC: "I hope that people realise what it does to us and the dangers they are putting themselves in.
"Nine out of 10 times they might get away with it but that 10th time could be the end of it."