Queen's Speech pledges continued reform of royal succession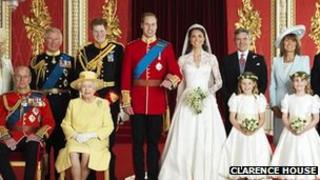 Royal succession laws "fit for the 21st century" have been confirmed by the Queen at the opening of parliament.
The system of male preference primogeniture will end, meaning sons of monarchs will no longer displace an older sister in the line of succession.
The reforms were first announced in October 2011 by the prime minister , during a visit to Australia.
Discussions between the Queen's 16 Commonwealth realms are ongoing, but all have approved the change.
During her speech, the Queen announced that "my government will continue to work with the 15 other Commonwealth realms, to take forward reform of the rules governing succession to the Crown."
UK legislation will be introduced once all the Commonwealth countries have agreed to change their laws.
Under the existing succession laws, the heir apparent to the throne is the first-born son of the monarch.
Only when there are no sons, as in the case of the Queen's father George VI, does the crown pass to the eldest daughter.
Several pieces of historic legislation will have to be amended, including the 1701 Act of Settlement, the 1689 Bill of Rights and the Royal Marriages Act 1772.
The planned change to the Royal Marriages Act will also end a position where every descendant of George II is legally required to seek the consent of the monarch before marrying.
Only the six people nearest in line to the Crown will need direct permission from the head of state.
The reforms also give heirs to the throne the freedom to marry a member of the Roman Catholic church, without being removed from the line of succession.
The move was welcomed by The Most Reverend Vincent Nichols, Archbishop of Westminster: "This will eliminate a point of unjust discrimination against Catholics and will be welcomed not only by Catholics but far more widely."
But the reforms have been dismissed as a "nonsense" by Graham Smith, chief executive of anti-monarchist group Republic.
"The changes to the Act of Succession fail the equality test in practice and in principle.
"It simply means that the eldest child of one family is preferred over all others. Inequality is therefore further entrenched in the system. Why should the eldest child of one family be given this privilege rather than allow the people to decide who their head of state should be?
"By highlighting the absurdity of our hereditary system, supporters of this change will only further erode interest in and support for the monarchy," he added.