Fishing ban in Dalgety Bay over radiation fear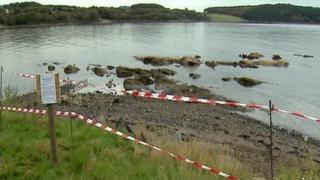 Emergency legislation has been passed by Scottish ministers to prevent fishing in the Dalgety Bay area.
The order, which follows concern about radioactive contamination, came into force on Wednesday afternoon.
Radiation at the site at Dalgety Bay in Fife is believed to be from radium paint used on wartime aircraft instruments.
The order bans fishing in the bay area and also the possession of any fish caught there.