Newspaper review: What was omitted from Queen's Speech?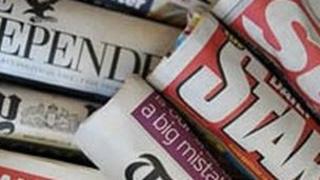 Many of Thursday's newspapers pick over the contents of the Queen's Speech - or rather, what was omitted.
The Daily Telegraph's headline asks : "Why was there no plan for growth?" and says business leaders were dismayed by a lack of help for the economy.
A similar concern is expressed by the Independent , which asks: "Is that it?"
It says there has been a "chorus of criticism" from British business over the new measures which are seen as "lacklustre".
Jobless 'snubbed'
The Daily Mirror is also disappointed by the speech , but for another reason.
It says there was "nothing for the needy" and that jobless people and struggling families have been snubbed.
The Daily Express leads with what it calls a "historic overhaul of the laws of Royal succession", with male heirs no longer getting preference.
It points out that potentially the earliest to benefit from the change would be any daughter born to the Duke and Duchess of Cambridge.
'King of coiffure'
There are tributes to Vidal Sassoon, who has died at the age of 84.
For the Daily Mail, he was "the king of coiffure" , while the Independent describes him as "the man who invented modern hairdressing".
The Times delves back into his youth, where he was part of a plot to kidnap Oswald Mosley, and later a volunteer fighting for Israel's independence.
But it too says he changed the world's approach to hairdressing, shaping it into a "creative vocation".
'Biggest gamble'
The Times says President Obama's open support for gay marriage is "one of the biggest gambles of his career".
It says he had held back for fear of alienating social conservatives, and some African-American supporters.
The Daily Telegraph points out that Obama and the federal government are powerless to give gay couples the right to marry.
But it says his announcement sets up a dividing line with the presumed Republican nominee, Mitt Romney.