Andy Coulson mostly unscathed at Leveson Inquiry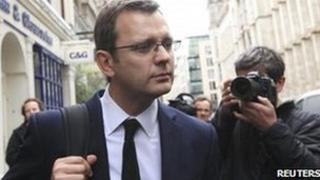 Andy Coulson has always been a cool performer under fire, as became clear in his appearances in front of MPs on the Culture, Media and Sport committee.
Back in 2003, when Rebekah Wade (now Brooks) admitted to MPs that News International had paid the police for information, it was Coulson who intervened, saying the paper always acted "within the law, where there's a clear public interest".
So smoothly did he do it that few appreciated until years later that there was no "public interest" legal defence for paying police.
Later, in 2007, after he'd resigned as editor of the News of the World over the jailing of its royal editor Clive Goodman, Coulson gave evidence to the MPs about phone hacking.
He kept the straightest of bats - sticking firmly to the line that Goodman had been a "rogue reporter" and insisting he had no knowledge of wrongdoing at the paper. He kept his answers short, never saying more than he had to.
So how would Andy Coulson fare under the close questioning of Lord Justice Leveson and Robert Jay QC in the judicial arena?
After the revelations from James and Rupert Murdoch's testimony, including the emails which caused such shockwaves in Westminster, there was eager anticipation as to what might emerge.
As a former editor of the News of the World who became David Cameron's director of communications, Coulson had plenty of questions to answer - some of which could have caused real problems for the prime minister and his colleagues, or indeed for the Murdochs.
Elephant in room
But there were no great surprises. Coulson emerged mostly unscathed - and so, by and large, did his former masters in politics and News International.
This was partly because phone hacking - called by some "the elephant in the room" - was off limits, since police inquiries are continuing. But it was also because of the calm, reasoned way Coulson dealt with the questioning.
He denied that he'd been appointed by David Cameron because of his connections with News International, saying his experience as a national newspaper editor - keeping on his readers' wavelengths - was more important.
He said he'd not been particularly close to Rupert Murdoch, though he'd enjoyed working for him.
In electoral terms, he said, television was now more important to the parties than newspapers (though Lord Justice Leveson pointed out that the value of newspapers was that they could be partisan, while broadcasters could not).
Coulson denied that, as editor of the News of the World, he'd gone easy on George Osborne over a front-page story, saying Osborne would hardly have considered the headline "TOP TORY, COKE AND THE HOOKER" to be "career-enhancing". Indeed, he said, "had we not had a DVD promotion that day, the story would have been twice the size!"
He said he also came up with the headline "Hug a hoodie", adding: "I don't think that was very helpful to Mr Cameron."
Damaging admissions
There were some damaging admissions. He admitted that he held shares in BSkyB at the time the News Corp takeover deal was being considered, and said that with hindsight he wished he'd paid more attention to this.
But it hadn't occurred to him that there was a potential conflict of interest because he wasn't involved in commercial issues.
At No 10, he'd attended sensitive security meetings, even though he hadn't a full security clearance, but he claimed that the clearance that he did have allowed "occasional" participation in such meetings.
Towards the end Lord Justice Leveson asked if there was anything he hadn't had a chance to say.
Coulson said it was clear that the relationship between politicians and the media had gone too far and had got in the way of "the message". But he said he would hate it if the inquiry led to more barriers being erected between politicians and the press. He said people were already disengaging with politics, as the low election turn-out showed.
He also wanted to dispel the idea that friendship between politicians and the media must always have an ulterior motive.
That set the stage for Leveson's next witness. Rebekah Brooks, the former chief executive of News International and neighbour and friend of the prime minister, takes the stand on Friday.
And this time, if she gets into difficulties, she won't have Andy Coulson beside her.