Guides claim lack of female role models 'could be damaging'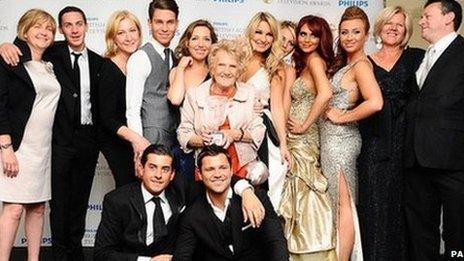 A lack of positive female role models is damaging the future prospects of girls and young women, Girlguiding UK has claimed.
A study of girls aged between seven and 21 reveals many use reality television and celebrities as a blueprint for how they should live their lives.
Girlguiding UK have identified a link between a narrow range of role models, and limited future aspirations.
One in three girls said they looked up to their mother the most.
Around 55% of girls and young women questioned agreed there is a lack of strong aspirational women in general.
Tracey Murray, head of guiding development, told the BBC that the "glitzy champagne lifestyle" of some celebrities is giving girls an unrealistic view on what life is really like.
"The type of role models that they were talking to us about tended to come from the world of TV and rich and famous celebrities, rather than the broader range of role models, like women who work in business, sport and other walks of life.
"We want to hear that girls are exposed to a broad range of women, so that they can have aspirations and interests, and are encouraged to make the right choices for them in future".
Many of those interviewed struggled to name a single female sports star, even in the run up to the London 2012 Olympic Games, but could name several singers and actresses.
The report - Girls' Attitudes Explored… Role Models - found that reality TV programmes such as The Only Way is Essex (Towie) and Made in Chelsea "shaped the girls view of relationships and their own behaviour".
Other shows, such as the Channel 4 drama Skins and US import Jersey Shore, have been accused of normalising and glamourising promiscuous sex, drinking and drugs.
Ruth Wrigley, the executive producer at Towie, told BBC Radio 5 live Breakfast she was not worried about the image of women the show portrayed, and believes it is a realistic view of how certain women in today's society live their lives.
"I think a lot of the girls in Towie are entrepreneurial, and run shops and a beauty salon.
"I grew up in a society where if I went to the doctors, it was a man, or to the dentist, it was a man. My daughters now experience women in all sorts of roles.
"Within a generation they can see women achieving more or less whatever they want, and I hope that as their mum I have given them the inspiration and encouragement to do that, if they so choose," she added.
The study also found that certain careers - such as engineering - are being dismissed as "jobs for boys".
Around one in six girls said they were put off an engineering career, because they do not know of many women who work in the industry.
It said that young women "often conform to conventional - even stereotypical - [career] preferences".
Equality group The UKRC and WISE - the "leading organisation" for gender equality in science, engineering and technology - said it was not surprised by the findings.
The organisation's Ruth Wilson said: "We're up against convention and stereotype on the one hand, and the low numbers of women in many areas of science, engineering and technology, on the other.
"So there aren't many visible role models who can explain how rewarding and exciting these careers are."
She said The UKRC and Wise helped women in these areas to build their profile so they could become role models and also encouraged industry to recruit and retain girls and women "and maybe help them get right to top".
The study suggested that about 12% of girls want to become teachers, 10% hairdressers, 7% a doctor or nurse or vet.
The report added that some want to work in music or television, but only aspire to success as a singer or actress rather than considering the other paths in those industries.
The girls asked could only name a handful of successful businesswomen, most of them because they have an established celebrity profile.
Many girls would consider setting up their own business, but others were daunted by the "pressure and responsibility" it would involve.
Karren Brady, one of Britain's most high-profile businesswomen and star of BBC One show The Apprentice, believes strong female role models are essential.
"Our next generation of successful and influential women need strong role models if they are to match and, hopefully, surpass the current generation.
"This doesn't just apply to the business world - it's true in all walks of life. Strong role models at home and in the local community are vital to showing girls and young women that they are capable of achieving great things."
Almost all the girls surveyed wanted to have children at some stage in their lives, but are aware this would have an effect on their working career.
Girlguiding UK say they are working with Everywoman - a UK-wide membership organisation for women in business - to create a series of "day in the life" videos, featuring successful women in a range of different careers shedding light on the reality of their professions.
Related Internet Links
The BBC is not responsible for the content of external sites.