Curry colleges start recruiting British trainees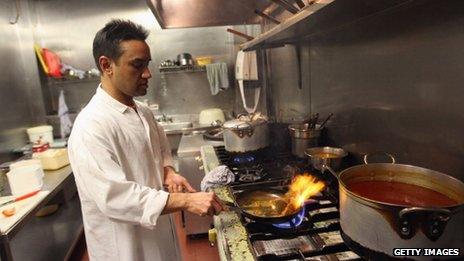 As UK curry houses struggle to staff their kitchens because of tougher immigration rules, the government wants them to accept graduates from new "Curry Colleges" training British workers in Asian cuisine.
Floyd Price, 18, places a naan bread in the Tandoor oven at Imli restaurant in central London. Although not quite as nimble-fingered with the traditional Indian bread as his colleagues, Floyd is certainly on his way.
And for the government, Floyd is something of a model for the future - a British chef in an Asian kitchen.
"When I first wanted to be a chef I wanted to do something like pastry. But once I got into an Indian kitchen I realised I preferred the food and methods of cooking," says apprentice chef Floyd.
"And I think it's about time that, considering everyone loves Indian food, we actually start to learn how to do it ourselves!"
Floyd is unlikely to struggle for work. Around a fifth of Britain's restaurants are Asian or Oriental. And since November 2011, they have faced strict rules on employing immigrants, severely restricting their ability to recruit.
Chefs can only be recruited from abroad for posts paying over £28,000 a year, after deductions for accommodation and meals. They must also have five or more years' experience.
For restaurant manager Gulu Anand, this means he cannot recruit the staff he needs. "We do not need executive head chefs, we need commis chefs who are going to do practical cooking. We've already got managers, but we need people who have the practical skills to do the cooking."
The new visa rules are too tough says Rajesh Suri, the head of Tamarind group. "The immigration cap is a big blow to the industry," he says. "The local curry house has been hit the hardest; the ones you see at the end of your street. They are disappearing because people can't get the staff.
The Hospitality Guild, set up with £1.75m in funding from the Department for Business, Innovation and Skills, is opening five "centres of excellence" across England, offering training to young unemployed people in Asian cookery.
It is working with Jobcentre Plus to get young unemployed people to recruitment events at the five colleges.
And restaurants will have little choice but to recruit from these colleges believes Suzy Jackson, executive director at the Hospitality Guild. Otherwise their restaurants simply will not survive. On the other hand she argues, it is a great opportunity for anyone out of work,
"If recruits sign up to a Curry College they get six weeks of training which includes working in a kitchen - so it's real hands on stuff.
"They will then get a guaranteed interview with one of our employers, which could lead to a two-year apprenticeship, and they've then got a real good chance of getting a job for life."
Chris Roksam, 20, from Sutton, in London, was unemployed before he did the training. He has now secured himself an apprenticeship.
"With the unemployment situation as it is we need more British chefs coming through and getting into these roles," he said.
The colleges are aiming to take in 50 students in the first year, but quickly grow from that base.
The University of West London recently staged a recruitment fair with stalls from Asian restaurants from all over the capital, chef lecturer Dipna Anand handed out lamb kebabs and talks to potential chefs about cooking techniques.
Teaching people with no background in Indian cooking will be a challenge she admitted. "We will have to start from scratch, I don't see why it can't be done but it's going to take a bit of time."
"Obviously when we used to be able to get the chefs from abroad, they used to come into the position and just start where we needed. They knew the spices, the techniques, because they or their parents were Indian.
Rajesh Suri says his Tamarind group has struggled to find good enough recruits. "You just cannot fill the jobs overnight - training people takes three to four years."
Mr Suri says he has also struggled with the quality of staff that the apprenticeship schemes are attracting. As much as he is reluctant to invoke the cliché that British youngsters are less hard working than their Asian equivalent, he says it has been problem getting young people here to commit to the long hard slog of training to be a chef.
"The cultural difference is there" says Mr Suri. "I know this sounds negative but, if people come from places like India, we don't have the same social system where if you don't work at 18, you'll get help from the government. People here feel more like they can pick and choose what they do."
Despite all the reservations, restaurateurs like Mr Suri may have no choice, and in trainees like Floyd Price he has found those willing to put in the hard work.
After 18 months, apprentice Price is still not allowed to cook a curry, residing in the cold half of the kitchen for now.
"I should be moving onto the curry section soon. The hours are long, my friends and family aren't happy about how much I have to work but they are happy to see me learning so much.
"It's worth it and I'm never made to feel like an outsider."
Related Internet Links
The BBC is not responsible for the content of external sites.