Gordon Brown denies approving cystic fibrosis story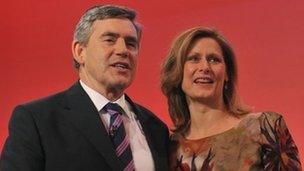 Ex-Prime Minister Gordon Brown and his wife Sarah say claims they gave permission for the Sun to publish a story about their son's medical condition are "untrue".
The newspaper ran a story in 2006 about Mr Brown's son Fraser being diagnosed with cystic fibrosis.
Rebekah Brooks told the Leveson Inquiry she had the express permission of the Browns to run it.
But the Browns have said that "at no stage" was their permission sought.
Mrs Brooks, the former chief executive of News International, told the inquiry that the paper had not hacked into medical records to discover that Mr Brown's son Fraser had cystic fibrosis.
Instead, she said, the information came from a male source connected to a charity for the condition. Mrs Brooks refused to name that source.
The paper has previously said that the man's own child also had cystic fibrosis and he wanted to raise awareness of the condition.
Following Mrs Brooks' testimony on Friday, Mr Brown and his wife issued a statement in which they say they were attempting to "minimise the damage" surrounding the story's publication.
"The idea that we would have volunteered our permission or were happy that a story about our son's health was about to enter the public domain is untrue," they said.
"We were presented via the Treasury press office with the notification that the Sun had obtained information about our newborn son's health a few months after his birth in 2006 and was preparing to run a story.
"At no stage did anyone from the Sun ask permission to publish this story. Given that we were presented with a fait accompli our whole objective was to minimise the damage. We handled it as best we could at the time."
The couple say that Mrs Brown did speak at length to Mrs Brooks at that time, "to ensure that reporting was not unduly negative about the prospect for her son's health mindful of her own family and of other CF families around Britain".
The Browns go on to say that Mrs Brown "then quickly contacted her wider family and friends as they had not yet been notified. Every subsequent action that followed was an attempt to reduce any future coverage about our children.
"We remain concerned that there is no satisfactory explanation of how private medical information, known to very few people, got into the hands of the Sun and the possible payments involved.
"Our choice as a family was to keep our children away from the public eye as much as was possible and this is still our preference."
Last year Mr Brown publicly criticised the way the story had been handled, saying it had left him "in tears".
During her testimony to the Leveson Inquiry, Mrs Brooks also denied getting the story through "subterfuge".
And she rejected a suggestion that they hacked into any medical records or were given information from an NHS worker.
She said Mrs Brown was her "friend" and she felt "very sad" for the couple.
But she added: "They felt that, as prime minister, there were an awful lot of parents coping with cystic fibrosis and one of the overwhelming memories is that when the story was published they wanted us to highlight the positives."