Newspaper review: Papers reflect on Brooks evidence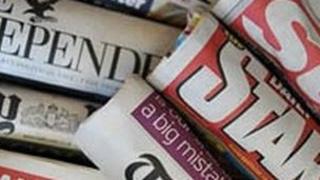 Finding out that David Cameron misunderstood what LOL meant in a text message was not, says the Daily Telegraph , a great surprise.
Whatever else Rebekah Brooks had to tell the Leveson Inquiry, the Financial Times observes that "she made the prime minister look a trifle silly".
Glimpses were provided, says the Times , of the close friendship between the PM and the ex-head of News International.
And that, says the Daily Mail, will be an "acute embarrassment" for him.
Secret of success
By common consent, Mrs Brooks had taken some trouble about her appearance at the Leveson Inquiry.
The Daily Express thought she looked "as demure as a pre-Raphaelite heroine".
The secret of her success seemed to be her ability to be "quite haughty" with her peers and "incredibly obsequious" to her superiors, says the Guardian .
The Independent thought this "unofficial member of the Murdoch family" was there to use her "charm".
Pricing policies
The prospect of an increase in British Gas bills of £130, according to the Daily Mail , or £240, according to the Daily Express , has not gone down well.
"We're all feeling the pinch," says the Daily Mirror .
The Sun thinks the company "must have a death wish" - because it has doubled a discount to staff while "its 16 million customers come off second-best."
The paper argues that the least British Gas should do is provide "transparent explanations" of its pricing policies.
Risk expert
The papers look on amazed at the sheer size of the trading losses made by US bank JPMorgan Chase and, in particular, one trader, based in London.
The Independent reckons he has cost the company £1.25bn : "He was the risk expert who was meant to play it safe."
The Financial Times reports that the losses wiped billions of dollars from the market capitalisation of banks.
According to the Times , the banker in charge of the department in question was paid $14m last year.