Newspaper review: Terrorists and teaching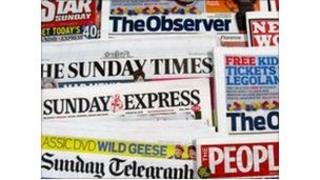 The Sunday Telegraph says MI5 warned Scotland Yard that police in its ranks were suspected of attending terrorist training camps in Pakistan.
The paper claims the officers in question lost their jobs when their security clearance was revoked.
The Sunday Times reports that western intelligence agencies believe doctors working with al-Qaeda in Yemen have been trained to plant explosives inside the bodies of suicide bombers.
One doctor was killed by a CIA drone.
Teachers' morale
Christine Gilbert, who resigned as head of Ofsted last year, tells the Observer that morale among state school teachers is at "rock bottom".
The paper talks of a "crisis of confidence in the profession".
The Independent on Sunday says a new book discloses that ex-News of the World editor Andy Coulson refused to sign a confidentiality agreement when he went to work at Downing Street.
The Sunday Mirror reports on "mounting panic in Downing Street".
It claims that PM David Cameron has put off his appearance at the Leveson Inquiry until next month so that he has more time to prepare.
Parenting classes
The Mail on Sunday leads with details of the government's new scheme to provide free parenting classes .
It says parents will be able to pick up vouchers worth £100 at Boots branches.
The government hopes the scheme will combat the breakdown in family discipline blamed for last year's riots.
Economic woes
It's time to prepare for Greece's exit from the eurozone, says the Independent on Sunday , which sees that as the only solution to the country's debt crisis.
The paper says "true pro-Europeans should support the break-up of the Euro, as it is in the interests of the whole continent."
The Sunday Telegraph carries what it calls a "blunt message" to the public : Work harder to help revive the economy.
It comes from Foreign Secretary William Hague.