Newspaper review: Terrorists and teaching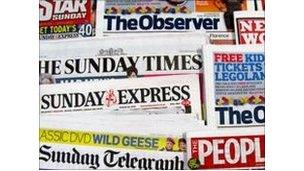 The paper claims the officers in question lost their jobs when their security clearance was revoked.
The Sunday Times reports that western intelligence agencies believe doctors working with al-Qaeda in Yemen have been trained to plant explosives inside the bodies of suicide bombers.
One doctor was killed by a CIA drone.
The paper talks of a "crisis of confidence in the profession".
It claims that PM David Cameron has put off his appearance at the Leveson Inquiry until next month so that he has more time to prepare.
It says parents will be able to pick up vouchers worth £100 at Boots branches.
The government hopes the scheme will combat the breakdown in family discipline blamed for last year's riots.
The paper says "true pro-Europeans should support the break-up of the Euro, as it is in the interests of the whole continent."
It comes from Foreign Secretary William Hague.
Related Internet Links
The BBC is not responsible for the content of external sites.