Warning over prison release delay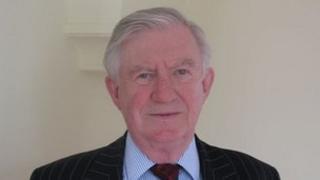 There is a risk of jail disturbances and compensation claims due to delays in assessing inmates for release in England and Wales, an ex-official says.
The Parole Board would struggle to make decisions on time without extra funds, its former chairman told the BBC.
Sir David Latham also said lessons must be learned about community supervision after several high-profile ex-prisoners broke the terms of their release.
The government said the board's finances were regularly reviewed.
A former Court of Appeal judge, Sir David Latham retired as chairman of the Parole Board of England and Wales in April 2012 after three years in the job.
In his first interview since his departure, Sir David voiced concerns about the board's workload at a time when the organisation was severely stretched.
"The pips are squeaking," he said.
The board, whose main job is to decide when it is safe to release prisoners who have committed serious crimes, is expected to deal with 26,071 cases by April 2013 - almost 4,000 more than the year before.
Instability fears
The increase is being driven by a rise in the number of reviews of prisoners serving life or Indeterminate Sentences for Public Protection (IPP).
The board is required to consider parole for such prisoners when they reach the end of their minimum term, or tariff, and at certain periods afterwards, if they are refused.
The number of inmates in both categories is growing. In the next 12 months the board will be asked to consider nearly 6,000 such cases, a 24% increase on last year.
Sir David said unless extra money was made available to deal with the "very substantial increase" in the board's caseload, prisoners would have to wait longer for decisions, which in turn would create instability.
"If you have more people in prison who simply do not know when they are going to be released, then you've got the risk of disaffection, you've got problems of management," Sir David said.
"That has all sorts of consequences which people like me, who remember the Strangeways riots and so on, will want to avoid if we possibly can."
The retired Parole Board chairman said delays would add to the already substantial costs of imprisonment - it can cost £40,000 to hold an inmate for a year - and could lead to offenders being awarded compensation if they had to wait too long for a parole decision.
"There is an obligation under the European Convention for Human Rights for a person to have his release considered within a proper time limit, and if that time limit is exceeded he is entitled to ask the courts for damages," said Sir David.
Without an increase in resources, he said the only way to prevent a backlog was to change the way the board reached parole decisions "which may not actually be as effective in protecting the public."
Community supervision
The Ministry of Justice said it had provided the same level of funding for the Parole Board as it did last year, £10.8m, "in the face of significant spending cuts across government".
A spokesman said: "The board's funding is kept under regular review and we will carry on working with it to ensure it is able to meet its responsibilities."
The department has also announced that IPPs will be replaced this year by Extended Determinate Sentences to give prisoners more certainty about their release dates.
But those already sentenced to an IPP will still require the Parole Board to make decisions about their release, as will offenders given the new extended sentences.
The most recent available figures, for 2010/11, show that 6.3% of offenders released from prison on a life licence and under active supervision in the community were sent back to jail. The previous year the figure was 5%.
Among those recalled to custody were Jon Venables, one of the killers of two-year-old James Bulger, and Learco Chindamo, convicted of murdering the headteacher Philip Lawrence.
Venables was jailed in 2010 for downloading indecent images of children; Chindamo was cleared of robbery in 2011 but was ordered to remain in custody while his case was reviewed.
Asked what lessons could be learned from the two cases, Sir David Latham said the Parole Board must ensure that its requirements for supervising prisoners on release could be met by the Probation Service.
He said on occasion Parole Board panels, making decisions about releasing prisoners, had expected too much from probation officers.
"The lesson above all that we have to learn is that supervised release, which is what we are talking about, needs to be exactly that - supervised release," Sir David said.
"You can never avoid the fact that there is going to be a risk of a further offence by somebody who has committed a serious offence and the question each panel has to ask is, is that risk capable of being managed?"