Scout to undertake volunteer projects in Community Week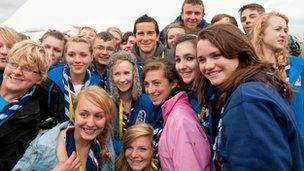 Up to 525,000 Scouts across the UK are set to take part in their first week of community volunteering since "bob-a-job" week ended 20 years ago.
Planned activities include tackling speeding, removing graffiti, renovating care homes and building habitats for rare bees.
The young people have been encouraged to do jobs which will help their local communities over the next seven days.
Chief Scout Bear Grylls said he hoped it would make a "huge difference".
The original series of Scout volunteer weeks was known as "bob-a-job week", and saw members of the public asked to contribute a shilling - worth five pence - in exchange for scouts doing jobs.
For the re-launch of Scout Community Week members of the public were encouraged to contact their local Scouts to suggest projects.
Projects taken on by Scouts in Honiton, Devon include helping the council tackle speeding by speaking to drivers and working with the traffic team and cleaning the war memorial.
Scouts in Chorlton, Manchester will be planting a wild flower meadow in an area backing onto the new tram system, while those in Orkney will plant 1,000 trees in seven days.
Bear Grylls, UK Chief Scout, said: "Volunteering is at the very heart of Scouting and it's great to see so many young people volunteering to support others and provide help where it is needed.
"Working together we're going to make a huge difference to communities up and down the country. "
Louise Crascall, a Scout Leader from Greater Manchester said Scouts had spent the past few months deciding how to help their communities.
She said: "Volunteering has been a brilliant experience for me - it's given me lots of new and transferable skills, and I think Scout Community week will bring huge benefits to the Scouts too."
The Scouts will be encouraging the communities they are helping to make voluntary donations to their group.
Related Internet Links
The BBC is not responsible for the content of external sites.