Newspaper review: Eurozone woes worry UK ministers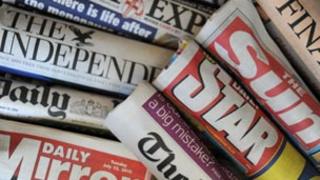 The Times quotes Business Secretary Vince Cable as warning that a "massive" economic impact awaits the UK if the eurozone crisis continues.
The paper calls this the bleakest analysis so far by a senior minister of the UK's vulnerability.
The Daily Mail adds that Mr Cable admitted there was little Britain could do except hope that the eurozone's economic firewalls were strong enough to prevent Greece's problems from spreading.
According to the Financial Times , David Cameron is considering pumping more than £1bn of British money into a Europe-wide drive for growth.
French president-elect Francois Hollande is said to regard a £10bn euro re-capitalisation of the European Investment Bank as key for growth.
Abortion bill
The Daily Mail leads with a report that the NHS is spending around £1m a week on providing repeat abortions .
It suggests that thousands of women are using the procedure as contraception.
The Guardian focuses on Britain's City of Culture next year - Londonderry.
It reports that in the past 12 months, Republican vigilantes conducting a campaign of shootings and beatings have forced more than 200 young men to leave the city.
The Independent says one of the Facebook founders has sparked outrage in the US by deciding to renounce his citizenship - apparently to avoid paying millions of dollars in tax.
Brazilian-born Eduardo Saverin's 4% stake in Facebook is thought to put his wealth at about £2.5bn.
Football victory
On most front pages pictures of Manchester City's Premier League triumph take centre stage.
The Daily Mirror speaks of the "most thrilling last day ever ".
The Sun reports that the City manager and two players went to Sunday Mass - and less than 10 hours later, it says, they were celebrating the team's "last-gasp miracle".