Newspaper review: Eurozone woes worry UK ministers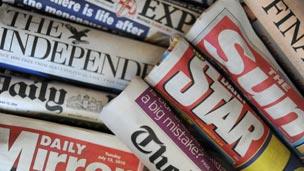 The Times quotes Business Secretary Vince Cable as warning that a "massive" economic impact awaits the UK if the eurozone crisis continues.
The paper calls this the bleakest analysis so far by a senior minister of the UK's vulnerability.
According to the Financial Times , David Cameron is considering pumping more than £1bn of British money into a Europe-wide drive for growth.
French president-elect Francois Hollande is said to regard a £10bn euro re-capitalisation of the European Investment Bank as key for growth.
It suggests that thousands of women are using the procedure as contraception.
It reports that in the past 12 months, Republican vigilantes conducting a campaign of shootings and beatings have forced more than 200 young men to leave the city.
Brazilian-born Eduardo Saverin's 4% stake in Facebook is thought to put his wealth at about £2.5bn.
On most front pages pictures of Manchester City's Premier League triumph take centre stage.
Related Internet Links
The BBC is not responsible for the content of external sites.