UK servicemen shot dead by Afghan police named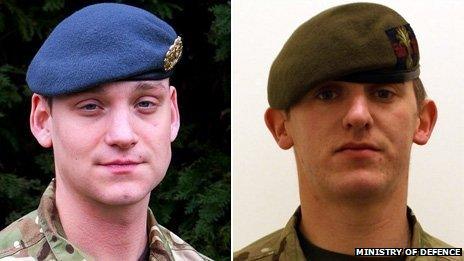 Two British servicemen shot dead at a base in southern Afghanistan by members of the Afghan national police have been named by the Ministry of Defence (MoD).
Lance Corporal Lee Davies, 27, from 1st Battalion Welsh Guards and Corporal Brent McCarthy, 25, of the Royal Air Force died in Helmand province.
The MoD said the two men, who were deployed as part of a Police Advisory Team, provided security near a base.
The number of UK military deaths in Afghanistan since 2001 is now 414.
The MoD said the two had been providing security near a base in the Lashkar Gah district on Saturday.
Their deaths came as Afghanistan announced plans to take over security in the Nahr-e-Saraj area where UK forces operate.
Cpl McCarthy was born into a service family in Hanover, Germany, before he moved Telford, Shropshire, where he grew up.
He joined the Royal Air Force in August 2008 and went on to join the RAF Police.
The serviceman was embedded with the Welsh Guards as part of the Police Mentoring and Advisory Group at the time of his death.
He leaves behind his parents, his sister and his partner, Sarah.
Cpl McCarthy's family said he was "a loving, sensitive young man" who "loved his family dearly".
They said: "Brent will be sadly missed not only by us but also by his loving partner Sarah and her devoted family.
"Life will never be the same for any of us. We will love you always. God bless."
The RAF described Cpl McCarthy, who had been stationed at Brize Norton, Oxfordshire, for the last two years, as a "popular and exceedingly professional airman" who will be "greatly missed".
Lt Col Dino Bossi, commanding officer, 1st Battalion Welsh Guards, said: "His intelligence, ready wit and his desire to muck in and take part in all aspects of communal life meant that he fitted seamlessly into an extremely tight team."
L/Cpl Davies, from Carmarthen passed out from Catterick, North Yorkshire, in April 2010 and he went on to join the Welsh Guards.
The serviceman was described as an "exemplary member of the Welsh Guards" who had been "an extremely popular and respected member of his company and platoon".
Lt Col Bossi said: "He was a formidably talented team commander, in his element in this complex and unforgiving environment," he said.
He went on: "The Welsh Guards have lost a man of inestimable promise, a fine guardsman who lived and breathed the values and standards of the Foot Guards. He will be missed by all of us. Our thoughts and sympathies go out to his family."
He was promoted from the position of infantry soldier to lance corporal in less than two years.
The MoD said the family of L/Cpl Davies were "devastated at the loss of Lee and wish to be left alone to grieve at this time".
Defence Secretary Philip Hammond said: "Both servicemen were performing an invaluable role, training and mentoring Afghan police, helping to ensure that Afghanistan will never again be a place from which international terrorists can launch attacks on our society.
"Their sacrifice will not be in vain and we will never forget them."
Related Internet Links
The BBC is not responsible for the content of external sites.