More London 2012 Olympic tickets going on sale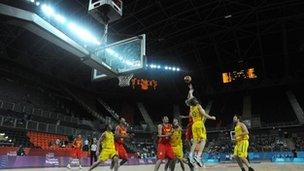 More tickets have gone on sale for people who were unsuccessful in securing entry to see the London 2012 Olympics.
About one million people who failed in the first round have until 23:00 BST on Thursday to apply for tickets.
On 13 May, applicants were able to apply for tickets to the men's 100m Olympic final.
Other events available include hockey, tennis, beach volleyball, gymnastics and football.
This latest sale is for people who were not allocated any tickets in the initial round of ticket sales, and who did not apply in the second round.
This group will also be able to apply for 70,000 general tickets for the Olympic Park from 17 May.
There were 900,000 tickets made available on Friday, initially to 20,000 applicants who had previously thought they had secured tickets, only to be told they had already been sold.
The online ticketing system sparked criticism last year after it crashed under high demand.
In some cases, the system reportedly informed potential buyers they had secured tickets, who were later told that they had failed.
According to the schedule issued by Locog, tickets will be made available from 11:00 BST each day, as follows:
13 May - Hockey, tennis, wrestling (freestyle), wrestling (Greco-Roman), beach volleyball and football
14 May - Athletics (race walk), athletics (marathon), canoe slalom, canoe sprint, shooting, swimming, volleyball, weightlifting and cycling (track)
15 May - Equestrian (dressage), equestrian (eventing), equestrian (jumping), diving, synchronised swimming, handball, table tennis, swimming (marathon) and water polo
16 May - Basketball (North Greenwich Arena sessions), badminton, sailing, gymnastics (artistic), gymnastics (rhythmic), gymnastics (trampoline), judo, Taekwondo, boxing and fencing
17 May - Archery, basketball (Basketball Arena sessions), cycling (BMX), cycling (mountain bike), cycling (road), modern pentathlon, rowing, Triathlon and Olympic Park tickets.
Further tickets will also be released from 29 May.
Buyers can apply for unsold tickets for the Paralympic Games on 21 May, with further details yet to be confirmed.
Related Internet Links
The BBC is not responsible for the content of external sites.