Sahil Saeed's kidnap in Pakistan was 'plotted in Spain'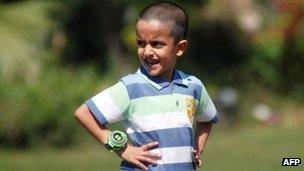 A married couple plotted the kidnapping of a five year-old UK boy in Pakistan from a Spanish town, a court has heard.
Sahil Saeed, of Oldham, was visiting his grandmother's home in the Punjab region when he was snatched during a robbery on 4 March 2010.
He was released after 12 days when a £110,000 ransom was paid by his family.
Appearing in Tarragona, Spain, Muhammad Zahid Saleem, his wife Gianina Monica Neruja and flatmate Muhammad Sageiz denied charges of kidnap, conspiracy.
The trio also deny charges of robbery and trespass as well as eight charges of unlawful arrest in connection with the case.
Mr Saleem and Mr Sageiz, from Pakistan and Ms Neruja, from Romania, lived in Tarragona before their arrests. They have been in custody awaiting trial since 16 March 2010.
Prosecutor Maria Jose Osuna said: "Together with at least four other people of Pakistani origin, Muhammad Zahid Saleem, Gianina Monica Neruja and Muhammad Sageiz designed, organised and carried out the kidnapping of the British minor Sahil Saeed.
"The whole operation was directed by the defendant Muhammad Zahid Saleem, who had gone to his country at the end of 2009 and in February for that purpose."
Ms Osuna told the court that Sahil and his father, Raja Saeed, had been saying farewell to their family when four masked men carrying assault rifles and hand grenades struck.
She said they beat members of Sahil's family - including his grandmother and cousin - "without distinction of age".
"At one point they turned to Mr Raja Saeed and said they knew he was a businessman and they knew he and his father had a business in the United Kingdom," she said.
"They said, 'You are going to pay us £100,000, we are taking your son with us now'.
"They pointed a gun in his face and, when he told them they were making a mistake, they pounced on him, filled his mouth with cloth and tied it behind his head, telling him, 'If you try to contact the police or involve them we will kill him [Sahil]'."
The prosecutor told the court the men then left with Sahil in the taxi that had been meant to take the boy and his father to the airport from where they had been due to return to Manchester.
She said the men also stole 1,9000 rupees, two phones, a laptop, two watches and a gun.
The court heard that Sahil's uncle had been called from a phone box in Constanti, near Tarragona on the afternoon of 4 March, 2010. Two days later Sahil's father received another call from Spain informing him that the gang knew that he had contacted the police.
Mr Saeed was told that the ransom had doubled because of this contact, although the amount was later settled at £110,000.
The gang told him to return to the UK. Mr Saeed was told the ransom would increase if it was not paid by 15 March and that he would have to pay an additional £100,000 if he wanted to speak to his son to confirm that he was alive.