No decision over regional public sector pay, says Nick Clegg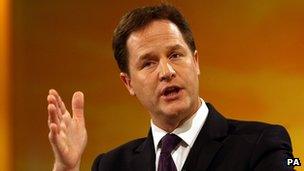 Unions have urged the government not to bring in regionalised public sector pay after Nick Clegg said "no decision" had been reached.
The deputy prime minister told an audience in London that ideas were still being "looked at".
The GMB union said Mr Clegg appeared to be "softening" his stance and Unison asked the government to drop plans.
The Treasury says public sector pay is 18% higher than in the private sector in some parts of the UK.
In his Budget in March, Chancellor George Osborne said local factors, such as the cost of living and private sector pay rates, should be taken into account in future when awarding salaries.
'Ludicrous scaremongering'
But on a visit to school in north London, Mr Clegg said: "There is going to be no regional pay system. That is not going to happen. No decisions have been taken.
"All that has been asked is something which happened under the last government - they did it in the Crown Court Service - which is 'is there, in specific cases, a justification to allow local, not regional, local market-based costs to be reflected in the way people are paid in the public sector?'.
"It is being looked at. Nothing has been decided. I feel very, very strongly, as an MP from South Yorkshire with a lot of people in the public services, that we are not going to do anything which simply willy-nilly exacerbates a north-south divide.
"There has been some ludicrous scaremongering, particularly from the trade unions, about what is intended when there is no proposal on the table at all.
"I really do think it's important that people should be reassured that we are not just going to sort of rush headlong in imposing a system from above which, if it was done in the way some people describe, would be totally unjust because it would actually penalise people working in some of the most difficult areas."
Treasury research suggests the pay gap between the public and private sectors ranges from 18% in Wales to 0.5% in the south-east of England.
Brian Strutton, national officer of the GMB union, said: "The deputy prime minister appears to be softening the line on regional pay previously put out by the chancellor.
"This is welcome, not least because there is no evidence to support the chancellor's original contention that public sector pay somehow crowds out pay in the private sector. This was always nonsense and Mr Clegg has successfully refuted the chancellor's argument."
Unison's general secretary, Dave Prentis, said: "If Nick Clegg disagrees with regionalised pay he should convince George Osborne to ditch his divisive plans.
"Far from being about making pay fairer, plans for regionalised pay in the public sector are simply a cost-cutting exercise. Not a single public sector worker will get a pay rise, but many will see their pay cut.
"Regional pay would hit communities hard, entrenching low pay in certain areas. This would cut consumer spending in local economies which they desperately need to recover from the recession. Stopping the level playing field in the public sector could also spark a skills shortage in areas where pay is set lower."