Operation Elveden: Two arrested by London police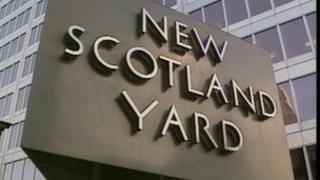 A man and a woman have been arrested at their London home by police investigating corrupt payments made to public officials, linked to the phone-hacking scandal.
The pair were arrested at around 06:00 BST by officers working for Operation Elveden.
The arrests follow information provided to police by News Corporation's management standards committee (MSC).
It brings the total number of arrests in this investigation to 29.
The 50-year-old man is an employee of HM Revenue and Customs and has been arrested on suspicion of misconduct in a public office, and on suspicion of corruption.
The woman, who is 43, was arrested at the same address on suspicion of aiding and abetting misconduct in a public office and for alleged money-laundering offences.
They are being questioned in a central London police station.
The MSC was set up in the wake of the phone-hacking scandal that led to the closure of the News of the World in July 2011.
It is conducting internal investigations relating to the Sun, the Times and the Sunday Times.
Operation Elveden was launched after police were handed documents in June 2010, suggesting News International journalists had made illegal payments to police and government officers.
In a statement, Scotland Yard said: "[The arrests] relate to suspected payments to a public official and are not about seeking journalists to reveal confidential sources in relation to information that has been obtained legitimately."
Operation Elveden is being supervised by the Independent Police Complaints Commission, and is being run in conjunction with Operation Weeting, the Metropolitan police's inquiry into phone-hacking.